Xcaret is a vibrant cultural and ecological theme park with many attractions to visit. It is also massive in size, making it quite easy to get lost without an Xcaret map. Most people imagine Xcaret to be a lively place full of sunshine, but what about Xcaret at night. Well, let us go through the top 3 things to do at night in this wonderful park. To save on your Xcaret visit, don't forget to use this Xcaret coupon code!
Night admission
Before we begin, it is important to note that Xcaret offers a separate admission package for those who just want to see Xcaret at night. The standard fee for adults is around $80 and goes for half for children aged 5-11. Younger children get free entrance.
Note: the normal Xcaret admission, detailed in our Xcaret vs Xplor comparison, also includes Xcaret at night. You do not need to buy the night package if you already have the normal admission
The night package includes:
Access to Xcaret park starting at 4:00 p.m.
Tours in three underground rivers (a secure bag for your belongings is provided prior to the river activity). Open until 5:30 p.m.
Xcaret México Espectacular presentation.
Access to the beach, inlet, and natural pools.
Visits to the Coral Reef Aquarium (open until 6:45 p.m.), the Butterfly Pavilion, and the Aviary (until 6:30 p.m).
Children's World, a place of fun exclusively for the little ones.
Horse Exhibition, Papantla Flying Men, and Pre-Hispanic Dances.
Tropical jungle trail.
Life jackets and inner tubes.
Lounge chairs, hammocks and rest areas.
Restrooms, dressing rooms and showers.
Free parking.
Other services (WiFi, ATM and shops).
As you can see, there are quite a lot of services and attractions included here. To get your night pass for less, remember to grab this Xcaret coupon! Now, let's discover the top 3 things to love about this park at night!
Extra discount June 2023
#1 Xcaret at night activity – The México Espectacular presentation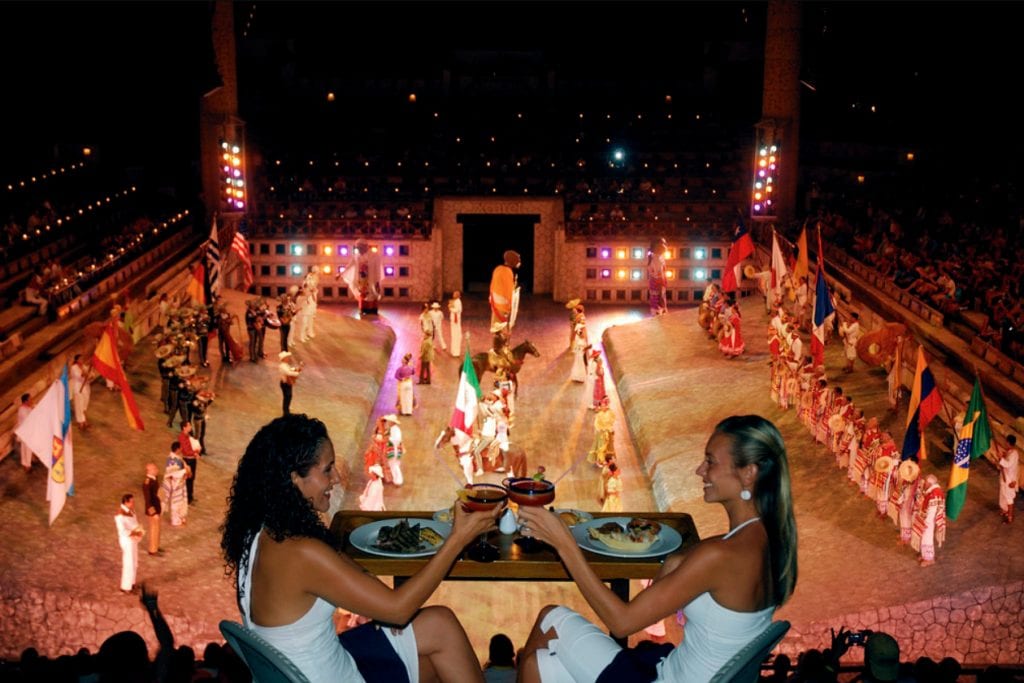 Needless to say, this is the star of Xcaret at night. There's no better and grander performances in Cancun that captures in full the long and spirited history of Mexico than this. The first México Espectacular show starts at 6:30pm, and you can follow one of our itineraries to not miss it!
Each México Espectacular show lasts for around 90 minutes and brings on stage a staggering 300 actors and actresses. The show takes you through the historic journey of Mexico, from the pre-Hispanic era to the time of the Spanish conquest, Colonial times, the Independence of Mexico and the Revolution, and finally to present day Mexico.
The show is a mix of visual splendour and emotional ups and downs, as you experience the rich cultural heritage of Mexico play out before your eyes. The show is acted with passion and delivered with beauty, and is worth every second.
#2 Xcaret at night activity – The Underground Rivers
The Underground Rivers also make our list of top 5 must-visit attractions on the Xcaret map, and for good reasons. If you're looking for a bit of splashing action and fun before the México Espectacular presentation, immerse yourself into the flow of these rivers.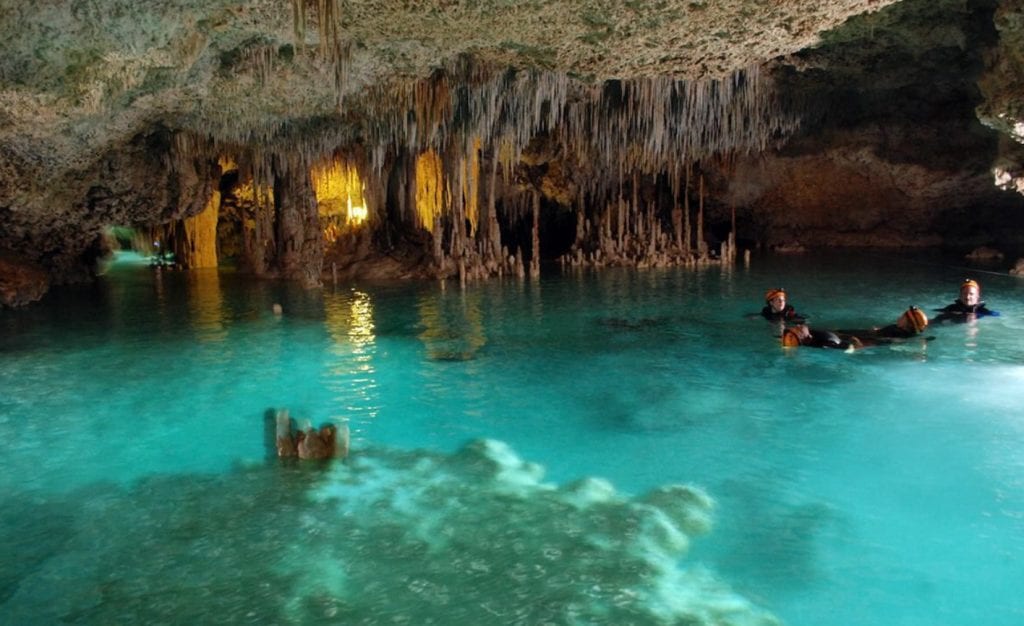 There are three underground rivers in Xcaret to choose from: the Blue River, the Mayan River, and the Manatee River. The water here is crystal clear and refreshingly cool. Upon entering each of the rivers, you will be greeted by a maze-like flow of water and some impressive fossilized coral remains. All three rivers flow into the sea, with flamingo mangroves on the side.
For your Xcaret at night experience, we recommend touring only 1 or 2 of the rivers to save your energy for the night.
#3 Xcaret at night activity – The Scenic Tower
The Scenic Tower is a 360-degree rotating viewing tower that stands at 80 meter high. It is admirably the highest point in the entire Xcaret park and the Riviera Maya coastline.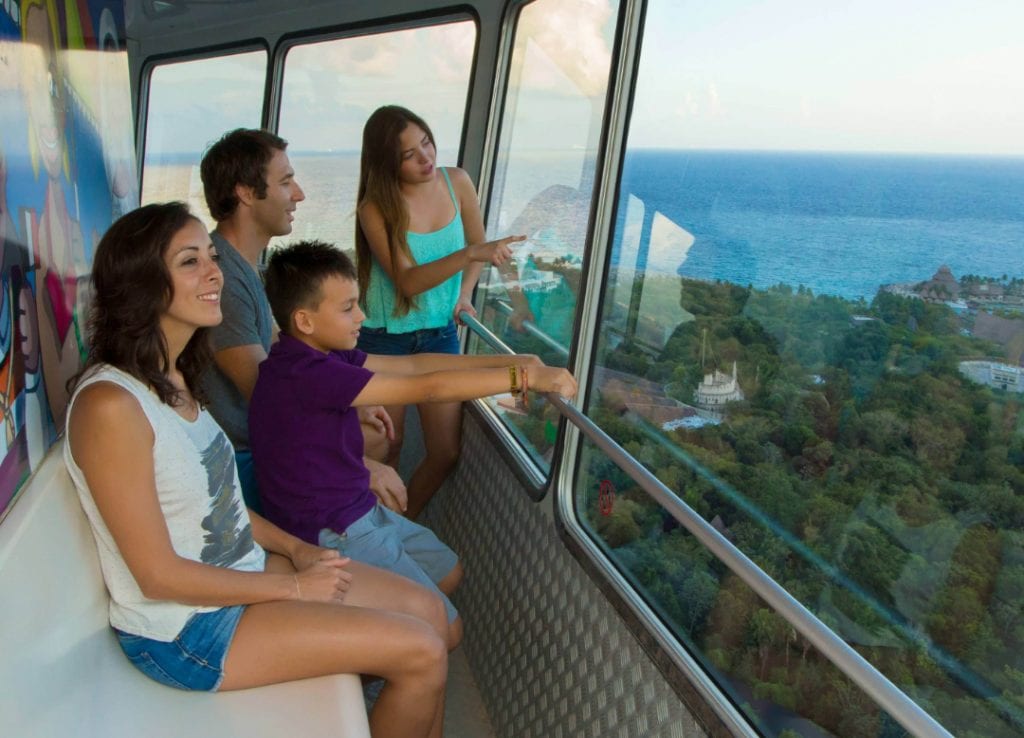 Up on the tower, a range of sceneries reveal themselves before your eyes. From beautiful stretches of Caribbean blue waters, lush green jungle canopies to unending horizons that overlook the distant Cozumel island.
What makes this attraction so great for Xcaret at night is, of course, the glowing dusk overcast that gives the landscape even more vibrant colors. To visit the Scenic Tower and more at Xcaret for a reduced price, grab this Xcaret coupon now!
Conclusion
Xcaret is not only a theme park of sunshine and blue skies, and there are many amazing things to discover at Xcaret at night! We hope our list of attractions have made your Xcaret visit even more fulfilling. And to save on an Xcaret trip, do use this Xcaret coupon code!