With the onmarch of COVID-19, protecting yourself against possible infection is very important. As such, the need for good mask products is greater than ever. While there are some general brands out there that make run-of-the-mill masks, it is often difficult to find some high quality ones. Therefore, let us recommend a good face mask brand with nearly 2 decades in business – Bailey Blue. To give you a sense of their product quality, let us take a look at the top 5 best-selling Bailey masks of 2023. Also, don't forget to claim this Bailey Blue clothing discount code to save lots!
#1 Bailey masks – The Classic Face Covering
Nothing beats a classic, and apparently this also applies to Bailey masks! Against other feature-rich Bailey masks, the Classic Face Covering still holds up and tops this best selling list. The reason is simple: it's old, but gold!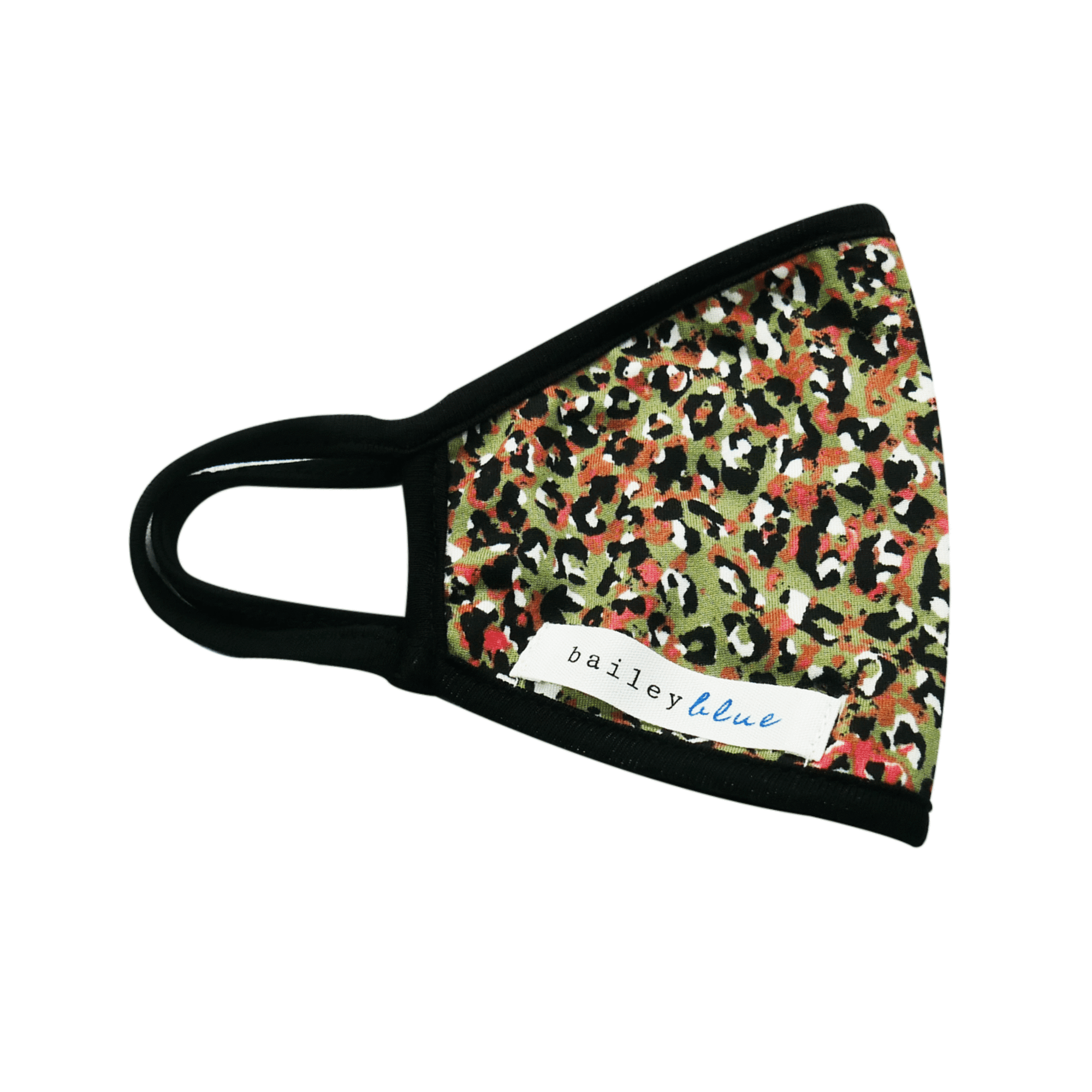 Made from double-layered rayon/spandex jersey fabric, the Classic Face Covering is as comfortable as a mask can get. It is also highly breathable and easy to clean, being hand-washable at low temperatures. However, where it truly shines is its sheer diversity in terms of color and design. Unlike other Bailey masks with only their own set of colors, the Classic Face Covering comes in 3 collections of colors and designs: the Tie Dye, the Solids + Stripes, and the Pattern collection. Each of these collections allow you up to 10-20 different colors/designs, giving you quite the variety!
To get your hands on the Classic Face Covering for less, try this Bailey Blue clothing discount code!
Extra Bailey Blue discount September 2023
Get Best Deal Bailey Blue Dresses Wholesale
#2 Bailey masks – The ULTIMATE
There's a reason why the ULTIMATE is given its name, and that's because it does everything so well out of all the Bailey masks we'll be looking at. Made from 2-ply rayon/spandex jersey fabric, this product is highly snugly and breathable and offers superior protection. What sets it apart, however, is its hands-free wearing experience. This is enabled by an add-on strap around your neck to hold the mask when you're not wearing it and prevent it from falling off when you are covering your face.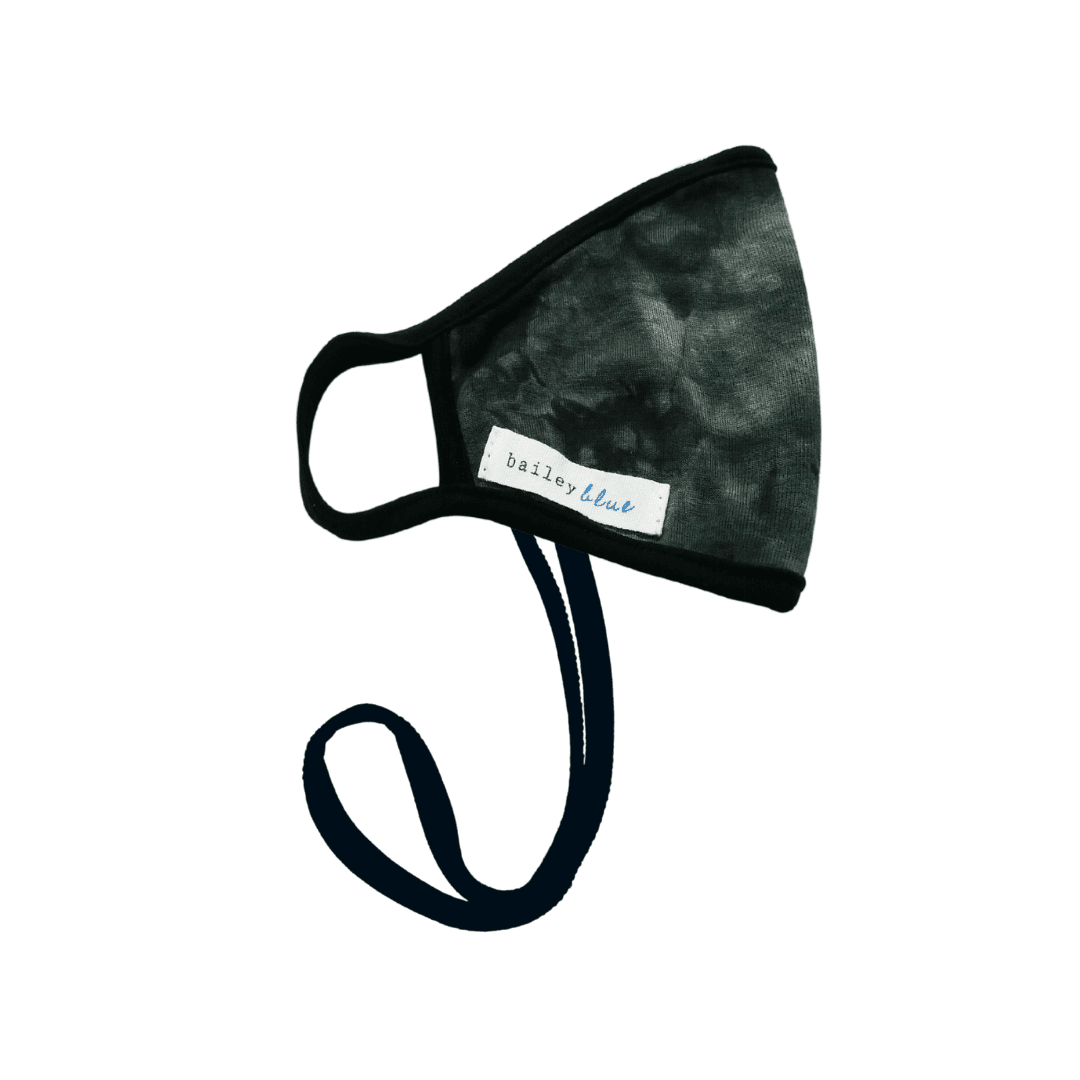 While not as extensive as the Classic Face Covering, the ULTIMATE also has some very decent selections of color, including: Black Marble, Royal Cloud, Rainbow Cheetah, Neon Butterfly, Black Camo Lime, Black Butterfly, Coral Cloud, Camo, Heartbreaker, Tuxedo Black, Bright Star Blush, Neon Star, Golden Cheetah Fuchsia, Golden Cheetah Royal, Bright Star Black, Desert Star, Royal Blue / Lime, Olive / Navy Camo, Hendrix / Navy, Black Marble / Lime, Mediterranean / Royal, and Neon Coral / TD Rainbow.
This mask is so good that, in fact, its kids version also makes it into our top 3 Bailey Blue masks for kids list.
#3 Bailey masks – The Filtered
As its name suggests, the Filtered is a Bailey mask that comes with an extra filter to increase its ability to block out dust and bacteria. At its base, the Filtered comprises 3 layers of rayon/spandex jersey fabric. However, thanks to the inclusion of a special pocket, a PM 2.5 carbon could be slid in to provide a total of 6 layers. This ensures maximal protection for you and your family everywhere you go, not only from diseases but also harmful air pollution.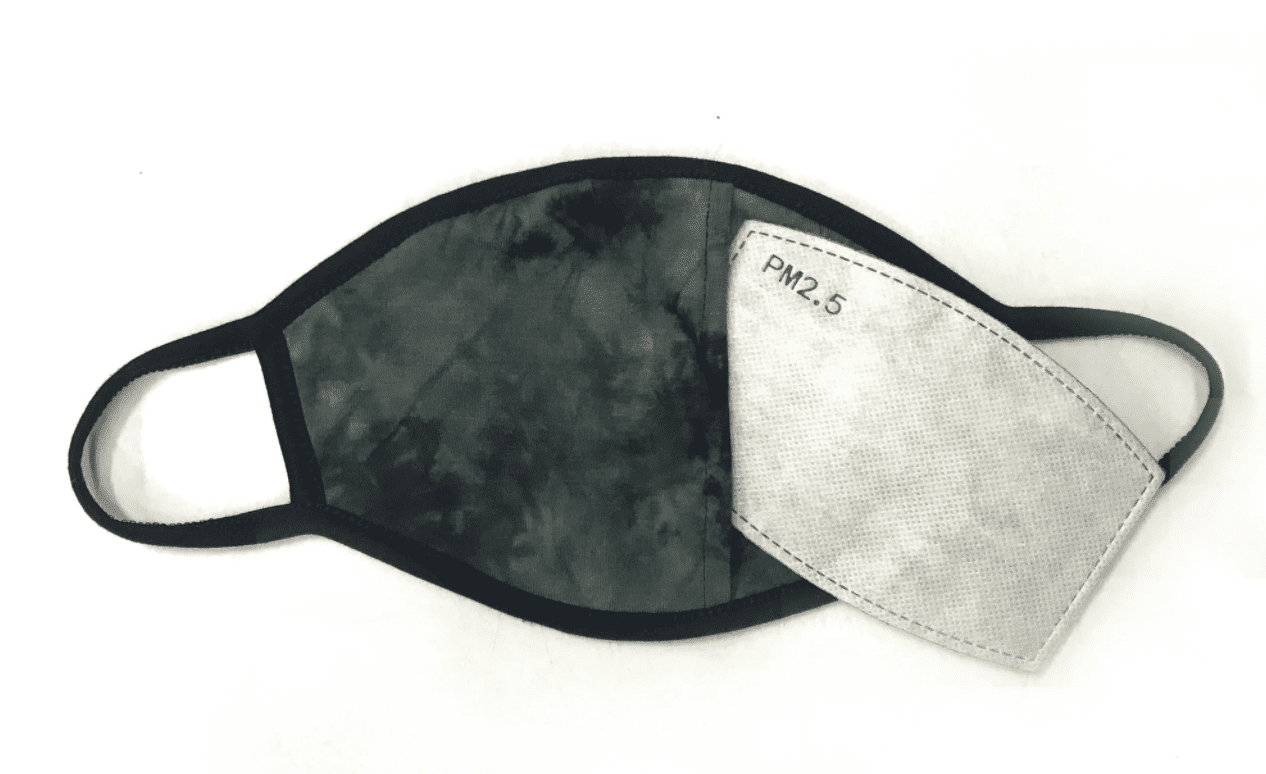 Despite its complexity, the Filtered is in fact quite easy to clean, once again by hand-washing and laying out to dry. And if you're worried this 6-layer mask would be suffocating, check out the reviews for this mask to see!
'My favorite masks! So soft, comfortable, and convenient. Love them!' – Anna Jordan.
'These are fantastic! They fit perfectly and are super comfortable and breathable. I have already ordered back-ups.' – Michelle Johnson.
#4 Bailey masks – The Slouchy Gaiter
If you fancy something other than your typical face mask, how about a gaiter round your neck? Along with Bailey masks, Bailey Blue also provides you the Slouchy Gaiter – a gaiter that provides you both protection and comfort.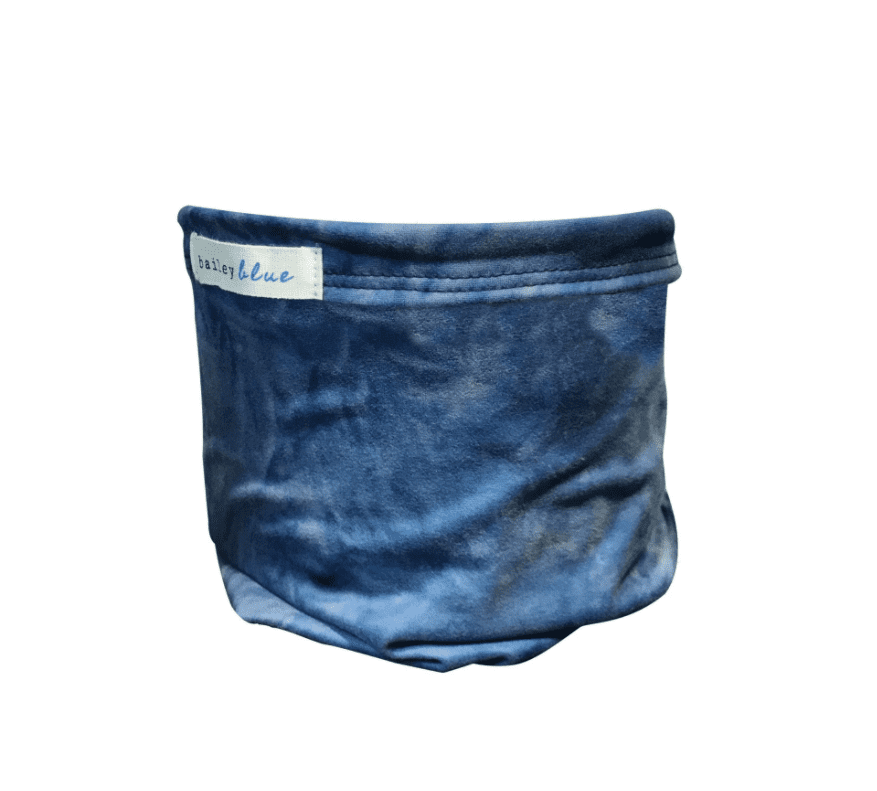 Made from snugly tee-shirt material, this product promises a comfortable and breathable wearing experience while also being hands-free. To see its excellence, check out this customer review:
'My daughter LOVES these masks! They are so soft and fit her perfectly! Definitely 5 stars, a great buy, quality & fast shipping ?' – Heather.
#5 Bailey masks – The Hangover
The Hangover is much like the ULTIMATE in that it comes with a hands-free strap. However, there's more to this product than just that! Being one of the most feature-packed Bailey masks, the Hangover also offers an adjustable nose wire to allow you to adjust it to your liking. Additionally, this product is anti-fog, meaning it is designed to let fog escape its covering area without fogging up your glasses.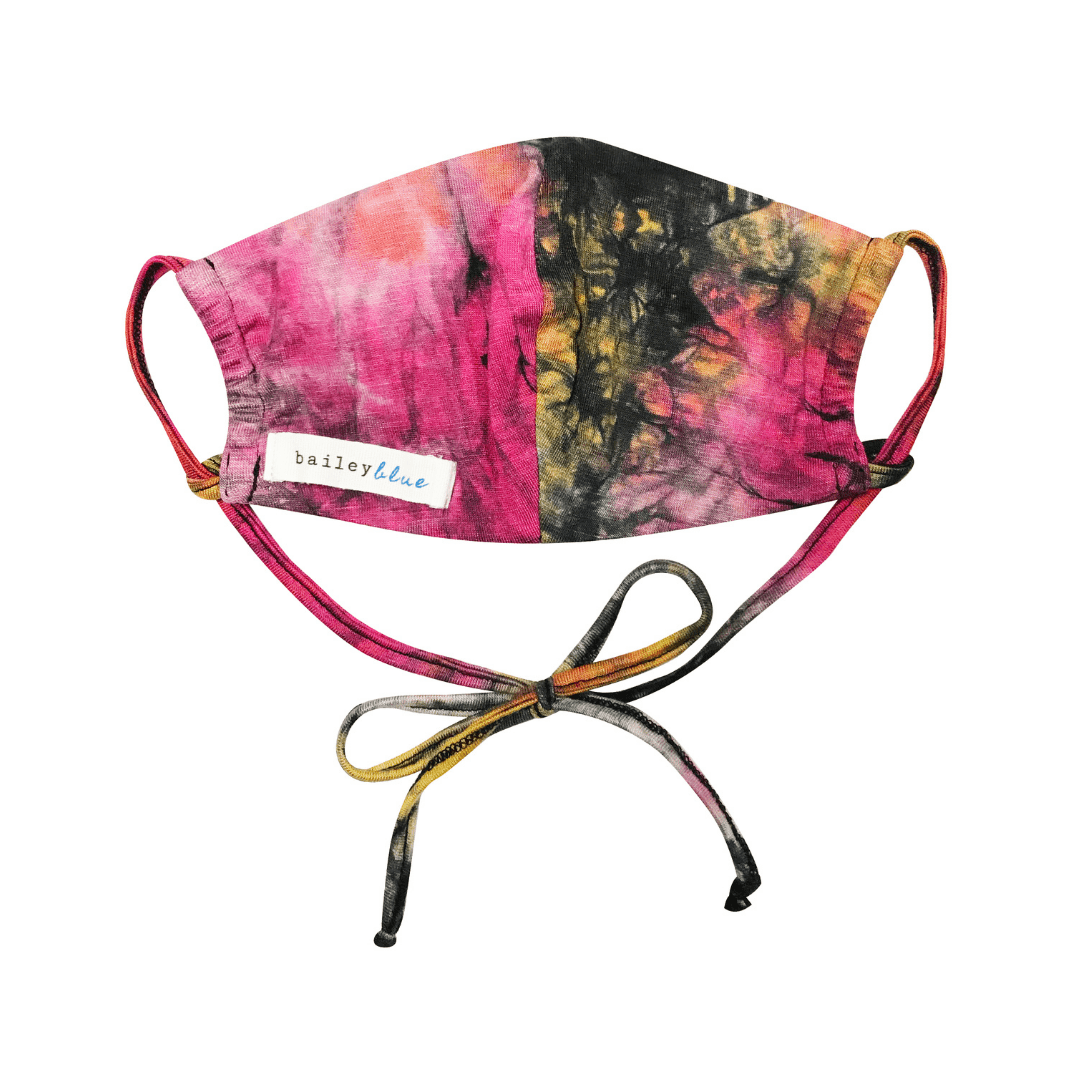 Given such a multitude of useful add-on features, the Hangover gets some really positive feedback from Bailey Blue customers:
'I absolutely LOVE this mask! Super comfortable, breathable (I added a filter in the handy built-in slot). I really like how I can remove it and it can just hang down. When I need it again, I simply have to lift it up and easily place it back on my face with the ear loops to comfortably hold it in place. No more bent ears, because the loops are adjustable. I simply can't praise this product enough :-)' – Lynn DelMastro.
'These hangover masks are the best masks I've found anywhere. It's the perfect design to keep the mask in place and from falling down! Adjustable with the ties and so easy to pull up when you need it, and down when you don't. So handy just having it rest around your neck. And the fact that they're CUTE, just makes them perfect. A little pricey, but the quality is good! So, in my opinion, it's worth investing in these, instead of going through a bunch of others that don't fit, are too thick, etc. These are my go-to now.' – Jolene.
Conclusion
In summary, the products above are the best selling Bailey masks of 2023. If you'd like to learn more about Bailey Blue products, check out the top 3 Bailey Blue kids masks. And if you can't wait to order, how about checking out this Bailey Blue clothing coupon to save a lot!