Enjoy The Wood is well-known for their extensive catalogue of wooden handmade products. Their expertise is tested and proven by numerous great products that are out there on the market. But have you ever stopped to wonder what people who have experienced Enjoy The Wood products actually have to say about their experience? Today, let us take a look at the reviews for Enjoy The Wood's most popular product category – wooden maps. After reading these Enjoy The Wood map reviews, don't forget to grab this Enjoy The Wood discount code to save lots on their products!
Enjoy The Wood map reviews – 2D World Maps
When it comes to wooden world maps, Enjoy The Wood is a clear leader in terms of both quality and variety. From humble beginnings in 2014 as an Ukrainian family of artisans, Enjoy The Wood has grown substantially to now offer a range of products. Wooden maps are undoubtedly the most popular product line in their categories, and this product line itself comes in 3 categories: 2D maps, 3D maps, and 3D back-lit maps.
2D maps are the most simple of the bunch, simply being a wooden map of the entire world laid out on a flat surface. However, this does not mean that it's quality is anything to take lightly. At Enjoy The Wood, every piece in a wooden map is crafted out of the highest quality birch plywood by experts in handicraft. This ensures a level of quality that is unmatched by mass produced alternatives, along with a level of polish that is next to perfection.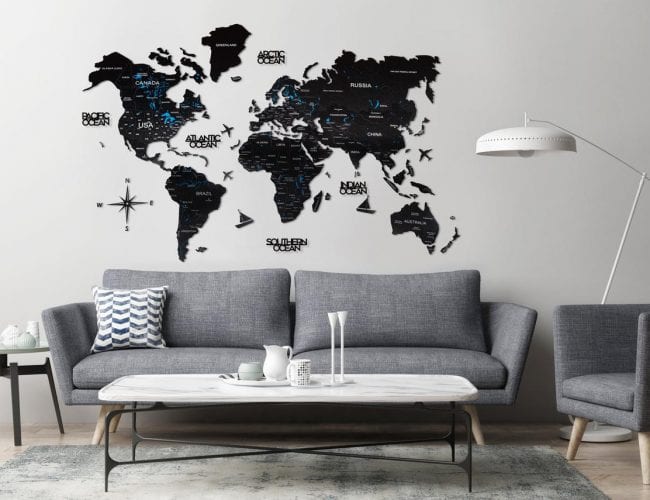 There is also a lot of variety in this map category, offering a range of colors and styles to the buyer. If you're all for natural colors, choose from cork, walnut, oak, or terra colors, or even mix them all together. And if you're more for something stylish and avant-garde, try the black, gray, or white colors to see if it fits your walls.
With such great features, you can expect the Enjoy The Wood map reviews for these 2D maps to be great. And yes, they are!
"I ordered the L Standard+States world map in Dark Walnut (#4) and just by looking at the packaging i could see that this is a quality product. Very easy to install with the double-sided tape that comes with the map, it is really strong and easy to work with. The delivery went smooth and arrived after a couple of weeks. Looks great on the wall!" – Kasper N.
"Perfect Living Room Decor. This product was just what I was looking for, high quality, made with love. Enjoy The Wood puts great custom work and customer service together. Love it!" – Marissa Elise Hughes.
So what are you waiting for? Why not grab this Enjoy The Wood coupon code now to get yourself products with such great Enjoy The Wood map reviews!
Extra EnjoyTheWood discount October 2022
Enjoy The Wood map reviews – 3D World Maps
3D maps are an absolute step up from the usual 2D maps, adding a literal layer of depth to your home decor wall map. The quality of pieces stay the same, of course, since they are once again made with expertise from the same birch plywood material. In terms of variety, the colors available for the 3D map category are as diverse as those for 2D maps. Once again, for those who like natural colors, oak, walnut, terra, and a mix of these colors are coming back. And for the more adventurous, how about black, pink, gold pink, gold, navy blue, white, or gray. There are truly a ton of choices, and as you can see the Enjoy The Wood map reviews are great for this map type!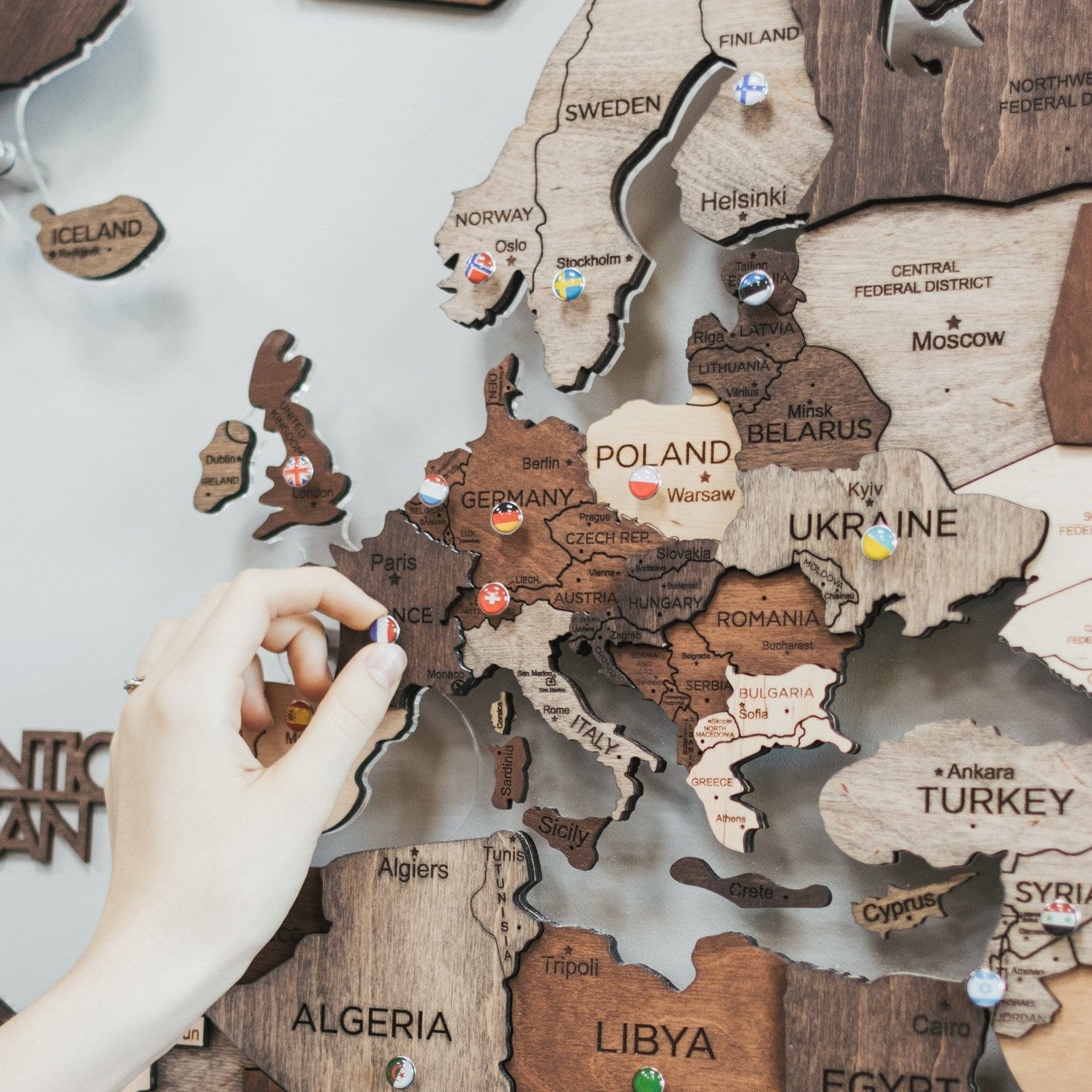 "Took a while to get shipped but it feels premium and looks great on the wall. Would have loved for the stick tape to be already on the map so i just have to peel it and paste it but its nicely easy anyway" – Emilio G.
"Absolutely in love with it! Amazing design and quality. We loved putting it up and testing each other where the countries are at the same time. Very happy with the product and would recommend it to anyone." – Justyna W.
"The print and wood quality was really great and we loved it. The thing that I didn't like is it isn't completely a Mercator projection, so we couldn't arrange Pacific to center, also it is missing some fairly big islands (e.g. Shikoku, Kyushu in Japan, and Hainan island). Overall we loved it very much!" – Lizan Z.
Enjoy The Wood map reviews – 3D LED maps
Another step up from 3D maps and now we have the LED back-lit map product line. This is undoubtedly the most intricate and most pricey category of all wooden map categories. Essentially, this map type is a wooden 3D world map layered on top of an acrylic backing. This backing also holds the LED lights, which come in 7 key colors and are adjustable. Truly a fantastic addition to spruce up your walls in an illuminating way. So let us see what the Enjoy The Wood map reviews say about this product.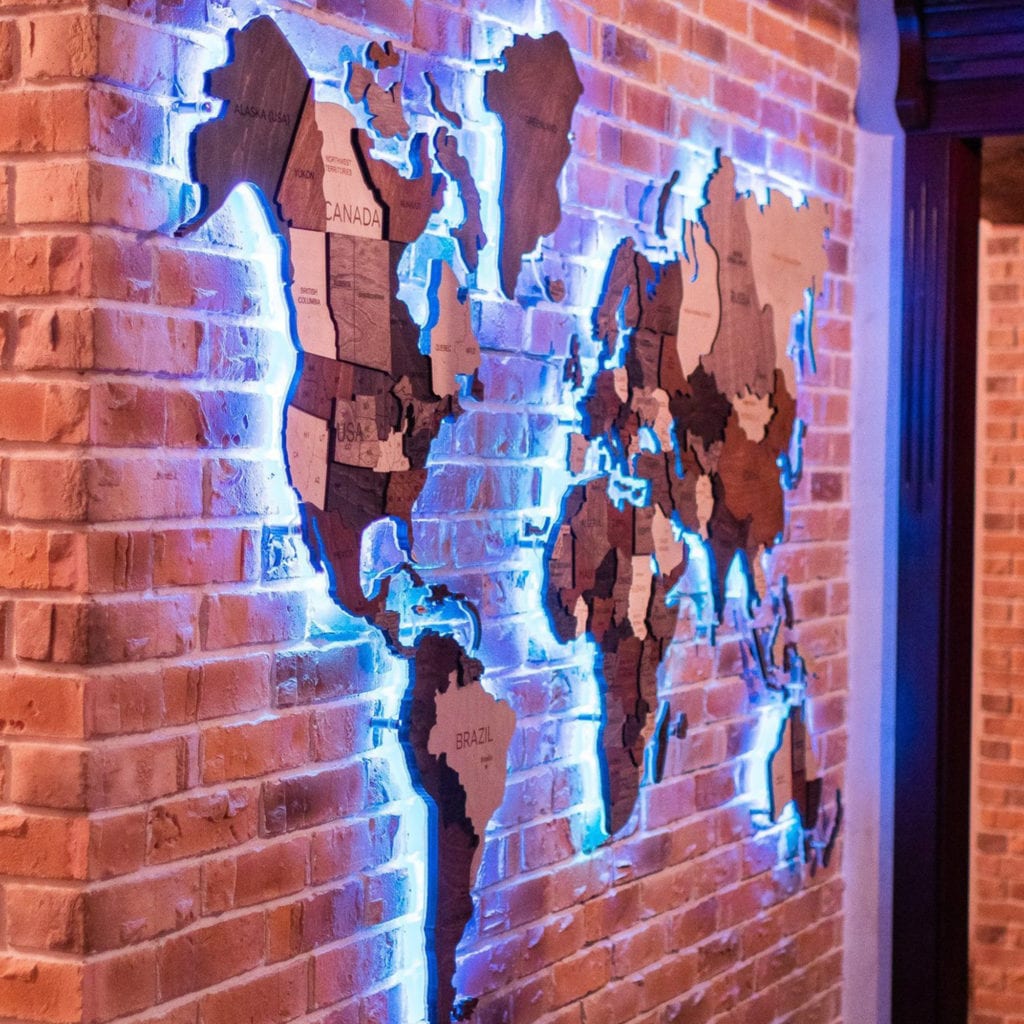 "I bought in April 2020, despite Corona everything worked well. Delivery and customs went ok. The LED world map is as described. Excellent fabrication. really nice wood. Thank you!" – Kristian S.
"Amazing!
The map has a really good quality, the lights are amazing, we really love it! I would again go for the LED option! It's a lot of money but It's worth it. We ordered the Antarctis and the wooden push pins as well, well this two options we may will not use. You need to decide if you like to use the wooden pins or the push pins, both are not possible to use on the same map. Great product!" – PJ.
Conclusion
So that's all there is for the Enjoy The Wood map reviews of today. We hope these reviews have helped you in deciding whether to buy these wonderful Enjoy The Wood products. If you do plan to do so, try saving with this Enjoy The Wood discount code! To find out about the Enjoy The Wood products, how about checking out these personalized recipe books by Enjoy The Wood.