Love world geography? Can't get enough of expert-level wooden handicraft? Then Enjoy The Wood is for you! Established in 2014 by one family of artists, Enjoy The Wood delivers some of the best wooden handicraft products out there, in the form of world maps, world globes, and puzzles. So what makes an Enjoy The Wood wall map so special and worth your money? Well, let us find out in this article! To save on Enjoy The Wood products, check out this Enjoy The Wood coupon code!
#1 An Enjoy The Wood wall map is the perfect furniture
Do you fancy a bit of coziness in the house, be it in your grand living room or intimate bed spaces? Well, a wooden map might just be the right thing for you. Not only do wood textures go extremely well with both flat minimalist walls and most wall colors, but their relative complexity and refinement also adds a good touch of flair to your house.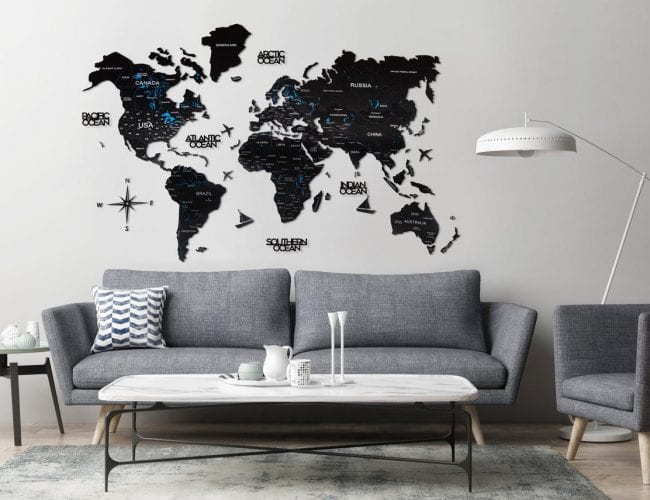 An Enjoy The Wood wall map is made out of the best birch plywood out there, with dozens of variations in the color, lightness, and texture. Some give you the genuine brownish-white birch shade, while others come in more extreme color variants that add a touch of style. What's more, Enjoy The Wood also enables you to put soft pins on the map with ease, so you can easily mark your family trips for some good nostalgia.
Altogether, it seems an Enjoy The Wood wall map is perfect for most living spaces. To get them for less, use this Enjoy The Wood discount code!
Extra EnjoyTheWood discount October 2022
#2 The variety of an Enjoy The Wood wall map is huge!
If you think you're only getting some boring old wooden map from your Enjoy The Wood wall map purchase, think again! The team behind Enjoy The Wood has worked hard to bring a massive range of options for buyers of their products. Their products now include 3D World Maps, 2D World Maps, LED-lit world maps, and even Enjoy The Wood music boxes!
Enjoy The Wood 3D World Maps
When it comes to choosing an Enjoy The Wood wall map, most would probably be thrilled at a set of 3D World Map. And for good reasons, really! All pieces of a 3D World Map by Enjoy The Wood is carefully hand-crafted to perfection. If you think about how much work goes into trimming just one section of the map to perfection, that's tens of hours of fine work you're looking at!
Furthermore, the wood used for your 3D World Map is 100% natural, mainly sourced from birch and polished to spotless perfection! Despite their complexity, these maps are also quite easy to install and come with double-sided adhesives to stick to your wall easily.
Enjoy The Wood 2D World Maps
Just like the 3D World Map above, this 2d Enjoy The Wood wall map type also delivers amazingly well on quality and variety. Made by the same team of crafters and from the same birch material, these 2D maps are pretty much sold for quality.
In terms of variety, they are also greatly diverse with an array of variants. You can find a range of colors going from the classic oak to the somewhat stylish cork and black cork color. You can even choose navy or baby blue if that's what suits your space!
Enjoy The Wood LED World Maps
To add even more flair to the 2 Enjoy The Wood wall map types above, LED World Maps are introduced to spice things up. In essence, this map type features a regular wooden 3D World Map that has been placed on an acrylic backing. This acrylic backing also holds the LED lights that will illuminate your map from beneath. In terms of color, these LED lights have 7 main colors with some slight variances, which can be controlled via a remote.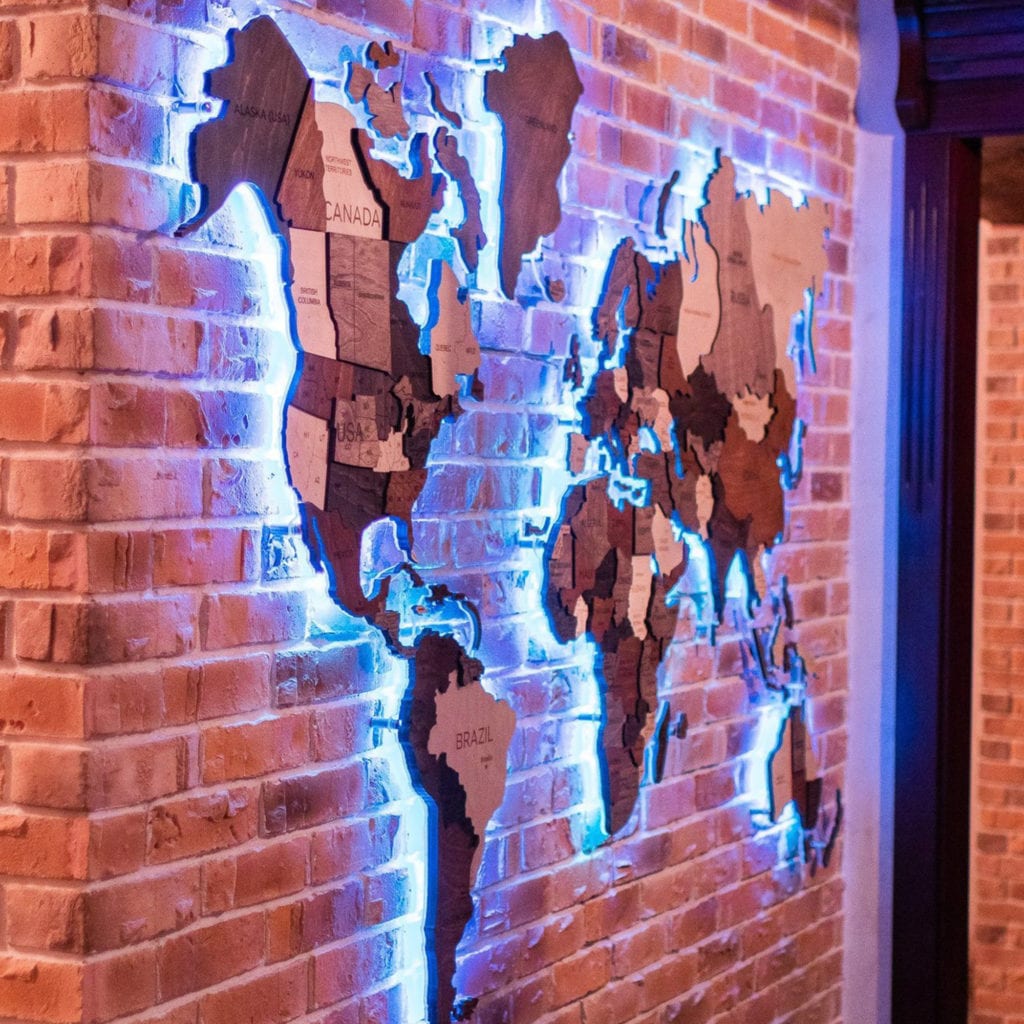 #3 An Enjoy The Wood wall map is great value
While wooden handicraft often means a hefty price tag, most Enjoy The Wood wall map come with very reasonable prices. For starters, these map include a set of different sizes for you to choose from, as below:
M – 100 cm x 60 cm (39"x24″)
L – 150 cm x 90 cm (59"x35″)
XL – 200 cm x 120 cm (79"x47″)
XXL – 300 cm x 175 cm (118"x69")
For a normal 2D map, the price would range from around $60 – $500 depending on its size and detail level. For a normal 3D map, the price often goes from $90 – $700. And for LED maps, prices can go from $400 – $1200. Quite something, but if you consider the amount of craftsmanship put in to individually manufacture and perfect these maps, they're totally worth it. Not to mention how sturdily built and long-lasting these are as your in-home furniture.
Of course, if you do want to save a bit on these wonderful Enjoy The Wood maps, you can always pick up these 3 best Enjoy The Wood coupon codes for even greater value!
Conclusion
So that's it for our top reasons why an Enjoy The Wood wall map is completely worth spending your money on. If you'd like to learn more about this product, how about checking some Enjoy The Wood reviews! Other than that, thanks for reading and enjoy your savings with this Enjoy The Wood coupon code!