VaporDNA is a great vape store for all your vaping needs. They offer various products ranging from vape kits and mods to e-juices and flavor pods. VaporDNA welcomes customers from all around the world. So how long does VaporDNA take to ship internationally? And where does VaporDNA ship from? These questions will be answered in this article on international VaporDNA shipping! To save on VaporDNA products and shipping, don't miss out on this VaporDNA shipping code!
International VaporDNA shipping basics
Serving an international pool of customers, VaporDNA has set up shipping procedures to cater for overseas buyers. Let's delve in and see how they do it!
Where does VaporDNA ship from?
Despite being mostly an online retailer, VaporDNA does have 2 physical stores for curious buyers to try out their products. These stores are both located in California at:
Huntington Beach Store:
Address: 8162 Talbert Ave. Suite 103, Huntington Beach CA
Operation Hours:

Sunday – Thursday: 11am – 9pm
Friday – Saturday: 11am – 10pm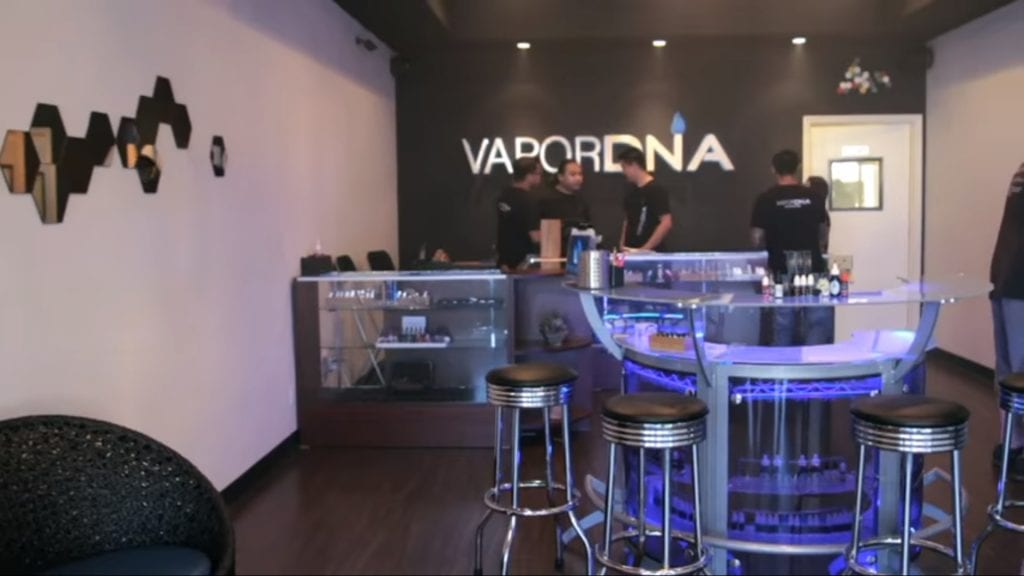 Torrance Store:
Address: 22517 Crenshaw Blvd. Torrance CA 90505 (Intersection of Crenshaw & Sepulveda, next to 310 Liquor Store)
Operation Hours:

Sunday – Thursday: 11am – 9pm
Friday – Saturday: 11am – 10pm
These stores are well-decorated and filled with friendly staff, so check them out if you ever visit California! To get some massive savings on VaporDNA products and VaporDNA shipping, use this VaporDNA shipping code!
Extra VaporDNA discount June 2022
How long does VaporDNA take to ship?
All VaporDNA shipping orders take 24-72 hours to process, regardless of shipping method or destination. International orders are mainly handled by 2 reliable carriers – FedEx and USPS.
The expected shipping time by USPS is as below:
USPS First Class International: 7-21 business days
USPS Priority Mail International: 7-10 business days
The expected shipping time by FedEx is anywhere from 3 to 7 days for most locations
Side note:
The actual number of shipping days may vary depending on the destination and origin of the order, or custom regulations of different countries
VaporDNA shipping rates are calculated at checkout
To understand better how much time your shipping might take, note that pick-up date counts as Day 0. Additionally, all shipping days are measured in terms of business days (Monday to Friday). Also, major holidays are not counted as business days, and thus will be excluded from the VaporDNA shipping time frame.
If you're from the US and would like to know more about shipping, check out our article on domestic VaporDNA shipping!
International VaporDNA shipping – important notes
International VaporDNA shipping restrictions
Along with the basic information above, you should be aware of some important restrictions that apply to VaporDNA shipping:
All country-based duties and taxes are the responsibility of the buyer
Some countries may prohibit the import of vape products. Make sure to contact your local authorities to find out if your vape order will be blocked in your country
VaporDNA Is not responsible for packages delayed due to customs issues
VaporDNA shipping charges are non-refundable
Some brands are not allowed to ship outside of the United States due to manufacturer restrictions
VaporDNA currently does not ship to Russia, Ukraine, Brazil, Singapore, Indonesia, India, Malaysia and several other countries. If you cannot find your country to ship to during check out, that means VaporDNA shipping is not available yet for your country.
VaporDNA does not ship any CBD or loose batteries products outside of the United States
VaporDNA does not take responsibility for lost or damaged packages. You should contact your chosen shipping carrier to enquire about these issues.
International orders cannot be canceled after being placed
If your item was damaged, missing, or incorrect you must email VaporDNA within 48 hours of the package's delivery. Don't worry, VaporDNA has got wonderful customer service, which is one the reasons why it is safe to shop at VaporDNA!
How to save on international VaporDNA shipping
Finally, now that you have learned all there is to international VaporDNA shipping, it's time to see how much you can save! While you cannot benefit from the domestic VaporDNA shipping code that gives you free shipping on certain orders, you can choose to save on your VaporDNA products instead!
VaporDNA currently has a HUGE sales, which gives you 75% off all vape kits, among other great deals! Furthermore, you can always use VaporDNA coupons, which gives you guaranteed and simple saving. A good coupon code to start with is described in our article on the best VaporDNA coupon code!
Conclusion
Overall, we hope you have found this guide useful for international VaporDNA shipping. Also, to get your VaporDNA products for less, why not try this VaporDNA coupon code!