The time has come, and you need a new mattress – a pretty easy endeavor or so you thought until numerous different types, models, features, and even brands hit you. Suddenly that easy endeavor just got a tad bit more complicated. If you are feeling overwhelmed or completely lost when navigating all the different types of mattresses that are available on the market today, take a look at a side-by-side comparison between Happsy vs My green mattress below to choose the right one.
Happsy vs My green mattress: Construction
The first factor to choose between Happsy vs My green mattress is its contruction.
In terms of My green mattress, the Natural Escape mattress is a hybrid bed that's designed with a medium firmness rating that combines a series of organic materials into a well-crafted and highly supportive bed.
Top Layer – Organic Cotton Cover
You will begin to see the masterpiece of the Natural Escape mattress from the minute you lay your hands on the cover. Made from organic cotton, the cover is impeccably soft and smooth to the touch. The cover features quilted organic wool that makes the bed a little bit softer, but also grants the cover moisture-wicking capabilities.

Fortunately, you can buy a Happsy mattress at 30% off the price by using the Happsy discount code. Click here!
Extra happsy discount October 2021
Organic mattress for $699
Second Layer – Organic Dunlop Latex
The comfort layer of the Natural Escape mattresses is made from three inches of Dunlop latex, with an IDL of 22 to 24. This shows how firm this latex layer can really be. As expected, this layer gives the mattress more bounce and makes it more responsive. It makes it easier for sleepers to switch from one position to another, while also making getting out of bed easier. Overall, this comfort layer feels quite soft. But now it is soft enough to serve side sleepers who weigh less than 130 pounds.
Besides My Green, CouponRich also compares Nolah vs Naturepedic to give customers more information. Take a look!
Third Layer – Pocketed Coil System
The support core of the mattress measures eight inches in height. It's made from pocketed coils. The number of coils will, of course, vary depending on the size of the mattress chosen, starting off at 690 and going all the way up to 1330 coils. Because the coils are individually-wrapped, which helps facilitate airflow inside the bed. But it also does a better job at motion isolation when compared to a bed based on coils which aren't individually wrapped.
This particular layer offers zoned support, which means that there are certain regions of the mattress with different coil gauges. The perimeter is reinforced with coils that are thicker, meaning that the Natural Escape mattress does a good job as far as edge support is concerned.
In contrast, Happsy mattress comes in two layers. The soft, organic cotton cover is quilted to a quarter-inch layer of organic wool on the top and cotton batting on the sides. The wool acts as an all-natural flame retardant that also wicks away moisture and helps keep the body feeling cool and fresh. You can remove the cover, which is convenient for spot cleaning.
There are two different layers and the bed stands 10 inches tall.
The first layer is a 2-inch layer of certified organic Dunlop latex sourced from India or Sri Lanka. The naturally breathable material is aerated for additional temperature regulation. And the quick-responding material conforms to your shape to relieve pressure while providing a surface-level bounce.
The second layer is an 8-inch pocketed-coil system that gives the bed its structure and shape. These coils support the sleeper's spinal alignment while helping to reduce motion transfer and heat retention. Reinforced coils around the edges help to better secure your weight when sitting or lying on the sides.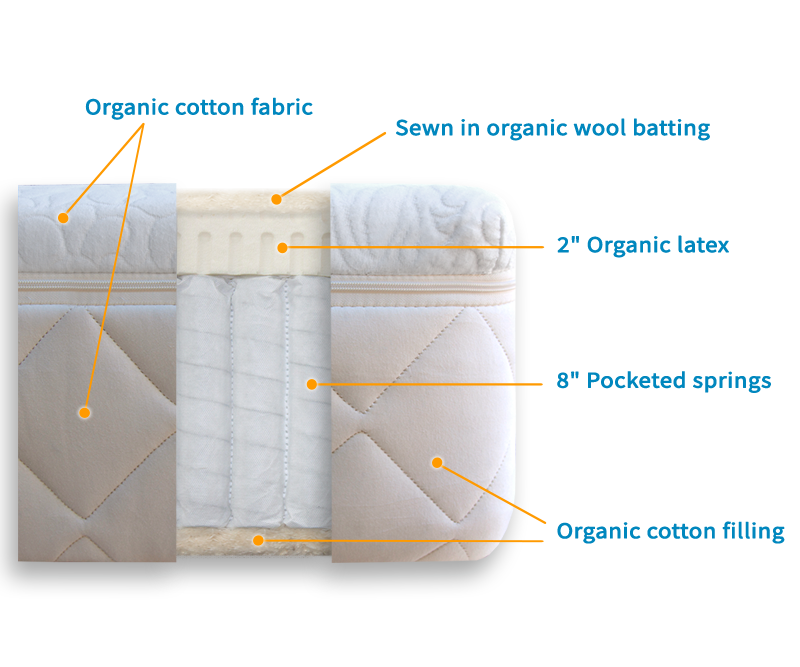 Happsy vs My green mattress: Firmness
The second important factor to choose between Happsy vs My green mattress is firmness.
In terms of My green mattress, on a scale from 1 to 10, with 10 being the value that represents a really hard surface, the Natural Escape mattress is a solid 6, which makes it about the average type of bed that most people prefer. While the firmness level of the mattress is really close to the industry average. There are certain types of sleepers that would feel more comfortable laying on this bed compared to others.
In contrast, Happsy normally features an attractive EuroTop design with an unbleached organic cotton cover. The cotton is soft to the touch and adds a layer of breathable comfort to the top of the mattress with a unique diamond-shaped pattern sewn into the fabric. It's important to remember that Happsy offers a pillow-top option you can add to the mattress for additional comfort.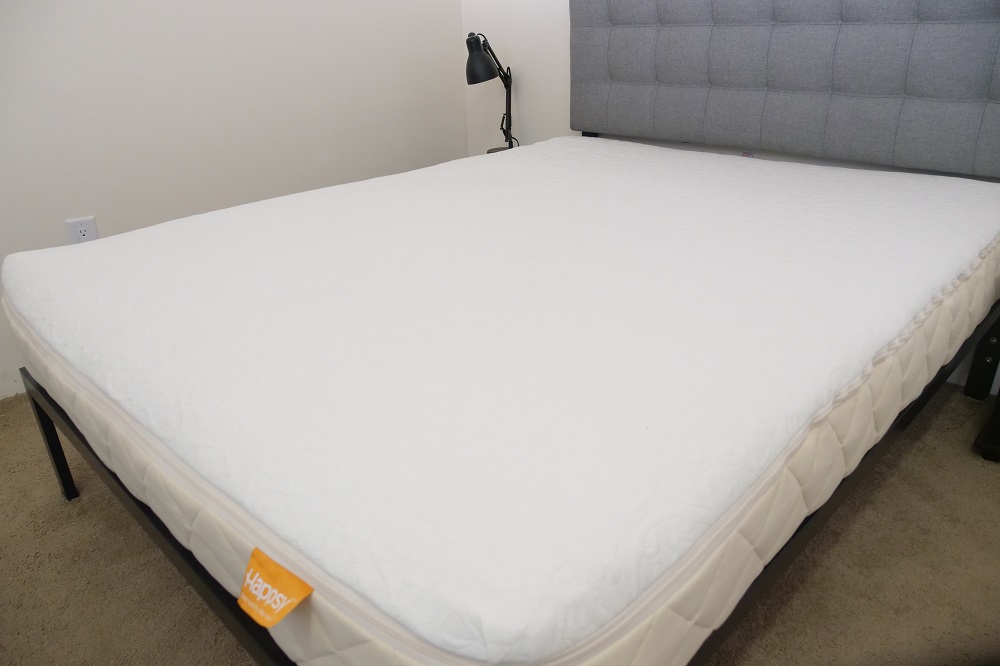 Laying down on the bed, it's about a medium firmness, and you should notice a gentle cradle from the comfort layer. Pushing into the bed, you should feel a quick response time for easy repositioning and lots of bounce. Though there are only a few inches of latex, you shouldn't feel the coils—even when pushing hard into the bed. It is good news for heavier sleepers.
Take a look at Happsy vs Avocado: Which is better to choose? to know more about comparison between other reputable brands.
Happsy vs My green mattress: Feel
The next factor to choose between Happsy vs My green mattress is its feel.
For My green mattress, the firmness of the bed gives you the feeling that you're sleeping on top of the mattress instead of sinking into it. It makes it a much more suitable choice for average weight and heavyweight sleepers. Of course, the way in which we all feel the same mattress depends on factors such as weight or favorite sleeping position. There are some objective conclusions that we can draw.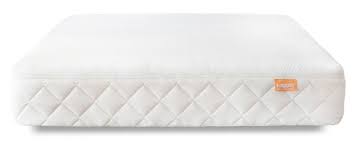 For the most part, the Natural Escape bed does a really good job in supporting side and back sleepers that weigh more than 230 pounds. But it's also decent for average weight sleepers, regardless of the position they like to sleep in. However, since the Dunlop latex in the comfort layer isn't the best contouring option out there, sleepers who weigh less than 130 pounds and like to sleep on the side are much better off choosing a different kind of bed.
By contrast, the Happsy mattress brings you a different level of pressure relief. The average sleeper should feel the individually wrapped coils support your curves. Meanwhile the layer of latex relieves your pressure points. The aerated latex should be springy and responsive for easy repositioning. But gently cradling pressure points, especially for back and stomach sleepers. Like Happsy crib mattress, it is voted as an ideal mattress for baby.
Combined with the pocketed coil system, the bed relieves pressure where you need it without losing support. Those who want a little extra comfort might want to opt for the additional pillow-top cover. This should give you a few extra inches of pressure relief. However, the softness of the bed should be adequate for most sleepers without the topper.
Don't miss the chance to save up to $200 off the purchase by using Happsy discount code.
Conclusion
A new mattress is not the same type of purchase as curtains or other household items. This is a product that you use nightly and possibly by more than one person. This means it is essential to purchase the right product for your needs. Especially when it is going to cost a significant amount of money regardless if you finance the cost or not. We just showed you a comparison between Happsy vs My green mattress. Don't forget to use Happsy coupon code to save up to 30% of your orders at Happsy. Click here!