When making their first e cigarette purchase, a question often lingers in the minds of buyers: how to charge an e cig? Thankfully, RELX e cig, with revolutionary technologies and abundant user-friendly features, have made charging a very simple and straightforward process. Just follow our 3 tips down below, and while you're here, don't forget to grab this RELXNOW coupon code to save on your RELX purchases!
How to charge an e cig? – Using the standard RELX cable
Each RELX e cig ships with its own standard 'manufacturer-approved' charging cable, except for the disposable RELX Nano and Nano 2. The RELX Classic comes with a micro-USB charging cable, while the RELX Alpha has a USB Type C cable with it. The difference between these 2 cables make the charge time noticeably different between the two devices, which is detailed in our RELX Classic vs RELX Alpha comparison.
To charge your RELX e cig, simply insert the charging cable into the micro-USB/USB-C port at the bottom of the device and plug the cable into any electrical outlet. The standard charge time for a RELX Classic is around 60 minutes, while the RELX Alpha charges faster at only 40 minutes, which is one of the reasons to choose the RELX Alpha. Regardless of which vape kit you choose, remember to use this RELXNOW discount code for lower prices!
Extra relx discount May 2021
40% Off Storewide at Relx
How to charge an e cig? – Using a charging case
After some time, your RELX e cig manufacturer cable might be lost or damaged due to mishandling. If this happens, you have the option to purchase an original charging cable directly from RELX, or switch to using a charging case.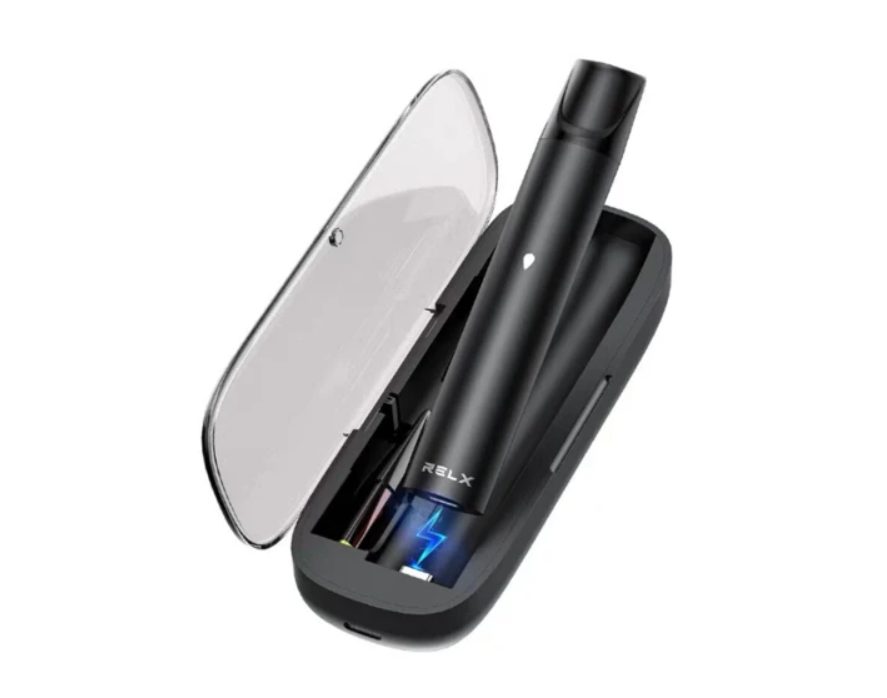 While charging cases may seem at first to be quite clunky and take up more space than a standard charger, there are some benefits to using them. For example, a charging case like the Pocket Nicotine can hold up to 1200 mAh, meaning it can charge a RELX e cig up to 3 or 4 times in a row. Furthermore, a charging case when not in use can also act as a protective case for your RELX e cig.
A downside is that the Pocket Nicotine is only compatible with the RELX Classic, not RELX Alpha. You would need to look at third-party options if you do want to use a charging case with RELX Alpha.
So, how to charge an e cig with a charging case? Regardless of which charging case you choose, the process is simple. First, charge the case with the charging cable that comes with it. Second, your charging case should have some sort of indicator light that tells you when it has been fully charged – look out for that! And finally, once the case has been charged, simply place your RELX device into the charging case and you will see its LED light turn on, showing that it's charging.
How to charge an e cig? – Alternative solutions
Of course, in an ideal world where's everything the way you want it, charging a RELX e cig is easy like above. But what about if you've forgotten your charging cable/case, or at a cafe with no power socket? Does that mean you have to call it a day with your vaping? Fortunately, no! Once again, thanks to the easy-to-use nature of RELX products, there are a few alternatives to the 2 charging methods we already talked about.
First of all, the standard RELX charging cable is, by its nature, a micro-USB cable – the same as the one you use to charge your phone. Thus, if you've forgotten your standard cable but have a phone cable with you, charge away! Additionally, if you can't find a power socket but have your laptop and a micro-USB cable of any kind in hand, simply plug your RELX into the laptop and watch the battery fill up.
Keep in mind, however, that these are not the recommended ways to charge your RELX e cig, and you should always aim to use the 2 methods above before resorting to these. Now, if you're ready to buy a RELX, input this RELXNOW promo code for reduced prices!
Conclusion
All in all, there are many answers to the question of 'How to charge an e cig?'. In this guide, we've provided you with the 2 most common ways to charge your RELX e cig, as well as some work-arounds. To get your RELX for less, simply use this RELXNOW coupon!