Among a variety of bags and purses from JW PEI, JW PEI mini flap bag is one of the most popular and best seller items. You can mix this bag with any style of outfit to elevate your outfit level. Take a look at JW PEI mini flap bag review below!
JW PEI mini flap bag review: Design
I went for the JW PEI mini flap bag in dark green and brown croc. They come with a thick shorter strap but some colours also have a thin long strap available too which is my personal preference. The thick shorter strap is nice but personally I prefer something a bit more classic like the long strap. Also as a tall girl I find short straps always come up a bit tight on me, unless they are adjustable which this one is not.
I wasn't expecting much considering the affordable price but the quality is great! The material is thick and sturdy, the interior has multiple compartments and the hardware is lovely. It's also holding up really well considering the brown one has been my everyday bag for months. It still looks barely used and the gold embossed logo on the front hasn't faded at all. It's also worth noting that these bags are made from vegan leather and recycled plastic.
Fortunately, you can own this excellent bag at 20% off the price by using JW PEI discount code. Click here!
Extra JW PEI discount August 2022
JW PEI mini flap bag review: Capacity
Inside consists of two compartments, each with their own side pocket. One has a zip and the other is an open top. The straps are detachable and the hardware on them is engraved with a JW Pei logo. Each bag also has a high quality latch at the front which I've never had an issue with, unlike some other bags I own like this mini flap bag.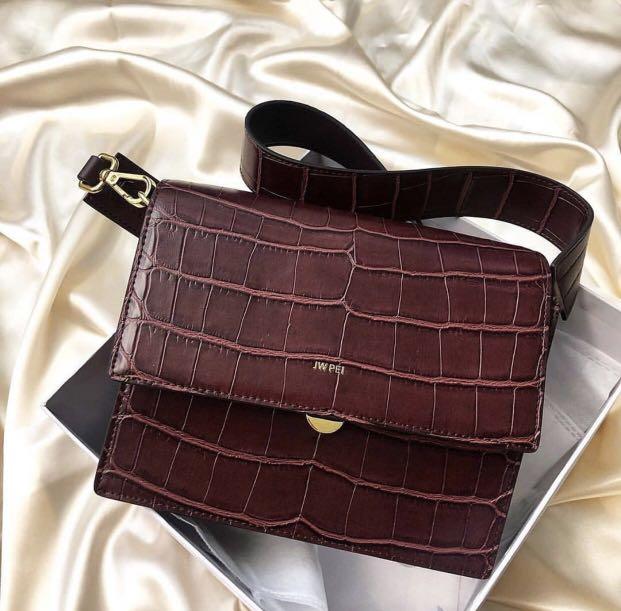 You can take a look at Outfit ideas with JW PEI quinn collection or JW PEI reviews: The fashion style of minimalist to know more.
JW PEI mini flap bag review: Delivering
I got a few extra straps too which I love and can also use with bags I already have. I need to give a special mention to the gold chain strap because it's absolutely gorgeous in person and has a nice weight to it which is what I look for in chain straps. Unfortunately the straps don't come in any special packaging, but the bags come with a dust bag and marble print box which is a fab bonus.
Remember to use JW PEI student discount to save up to 20% your purchases. 
JW PEI mini flap bag review: Some drawbacks
If I'm being honest, I already know I want to order another (the ice croc line is to die for!) but there's definitely a few cons to these that are worth mentioning.
Firstly the long thin adjustable strap is not available in all colours. I find this so annoying because I prefer this strap by far and would have already bought more colours if this was available. Secondly the croc print is a different shape on a lot of the bags. Again, this isn't really a problem, but I'm picky and have a preference.
As you can see though my complaints are minor, so if you're considering buying one of these I still recommend you do. I adore mine and the second they release that thin strap in more colours I won't be able to resist ordering more!
See the blog of Top 4 best seller JW PEI bags 2020 to know more about amazing bags.
Conclusion
I just showed you my review about the JW PEI mini flap bag, hoping that it is helpful for you to mix and match with your outfit. Don't forget to use JW PEI discount code to save up to 20% your orders at JW PEI. Click here!

Extra JW PEI discount August 2022