Mattresses are among the most important household items that can provide you great productivity from good sleep. But, alas, just how do you choose a good mattress? Well, let us help you out by comparing Nolah vs Ghostbed! To save on Nolah's mattress products, don't miss out on your Nolah Mattress coupon code!
Nolah vs Ghostbed – The similarities
Some clear similarities can be seen between Nolah vs Ghostbed. The two brands' mattresses are all foam-based mattresses with different firmness. They both offer great durability with their materials and construction quality. Lastly, both offer free shipping and have great customer service.
Nolah vs Ghostbed – The differences
Now that we've covered all the similarities between Nolah vs Ghostbed, let's begin our comparison in terms of their differences.
Material
Materials are the key to making a good mattress, and of course this applies to our comparison today. Between Nolah vs Ghostbed, there seems to be a tie in terms of material Ghostbed uses their proprietary Aerated latex with small holes in it, promising to give you a firm and cool sleeping experience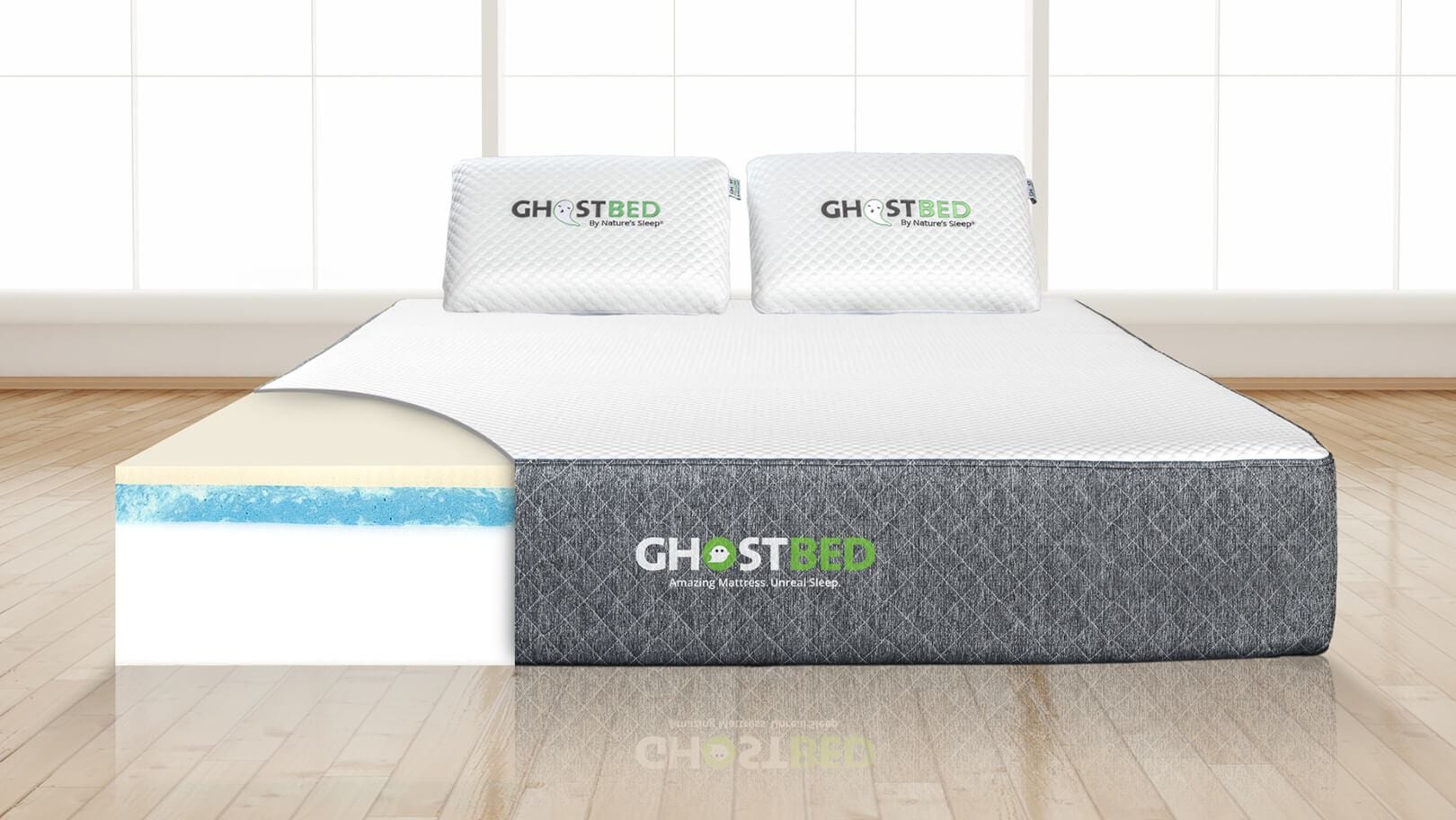 Nolah, on the other hand, uses AirFoam – a distinctive upgrade to memory foam that comprises millions of tiny air bubbles inside it. The best thing about AirFoam is its pressure relief potential, with up to 4 times the pressure relief of regular memory foam thanks to its unique design. It is also highly temperature neutral, meaning you can rest assured you won't be sweating in your sleep on a Nolah mattress!
Sounds like both make a good choice in terms of material. If you're planning to go with Nolah, why not grab yourself this Nolah Mattress coupon code!
Extra nolah mattress discount June 2022
$125 Off Your Order + Free Pillows
Construction
Also equally important to a mattress is its construction. Let us now take a look at how Nolah vs Ghostbed stack up against each other in terms of construction.
To assess Nolah mattresses' structure, let's take a look at the Nolah Original review's structure:
Layer 1: 2" of AirFoam,cooling youduring your sleep and providepressure relief
Layer 2: a 1" support layer offering a healthy bounce to keep you sound asleep all night
Layer 3: 7" of the best high-density base foam that reinforces the top layers
Ghostbed also features quite a good construction, with the same 3-layer approach:
Layer 1: 1.5 inches of proprietary Aerated latex
Layer 2: 2 inches of proprietary gel memory foam
Layer 3: 7.5 inches of dense core foam at 2 lbs density
Price
Now that the quality concerns are out of the way, let us see which between Nolah vs Ghostbed deliver the best value with their prices. A Nolah Original at the Nolah queen size costs $1149, while a Ghostbed equivalent costs only around $1195 – not a big difference. But hey, don't forget you can still save up to $300 on your Nolah mattresses using this Nolah mattress coupon code! Overall, with the help of our coupons, it seems Nolah is the preferable option when it comes to prices.
Conclusion
In conclusion, while Nolah vs Ghostbed tie out in terms of quality comparisons, the value you're getting out of your Nolah purchase is superior thanks to the use of coupons! For more info, you can check out our article on Nolah vs Bear!.