Mattresses are integral to staying productive, as they directly influence how much good sleep you can get. But where can you find a good mattress? Today, let us help you out by comparing Nolah vs Mint – one of the best mattresses by Tuft and Needle! To save on Nolah's various offers, don't forget to claim your Nolah Mattress coupon code!
Nolah vs Mint – The similarities
There are quite some similarities between Nolah vs Mint. Firstly, both of these mattresses are foam-based mattresses, so you can expect some similarities in their materials. Secondly, both mattresses are quite cool to sleep on. Lastly, both offer free shipping and good risk-free trials.
Nolah vs Mint – The differences
With all the similarities between Nolah vs Mint covered, let's take a look at what makes one mattress better than the other by examining their differences
Material
Materials can make or break a mattress, and as such we always start our comparison with this point. This is where Nolah vs Mint seems to tie out. Being a Tuft and Needle product, Mint inherits their proprietary material Adaptive Foam. This serves as Mint's top layer and functions mainly as a heat dispersion layer – giving you a cool night's sleep.
As for Nolah, they use AirFoam – a material consisting millions of air bubbles. These air bubbles give AirFoam its best feature – up to 4 times the pressure relief of regular memory foam, guaranteeing an extra comfortable experience. Furthermore, AirFoam is temperature neutral, meaning it won't absorb body heat and gives you a cool sleep. With its resilience, AirFoam also promises to outlast competitors by a big stretch!
Now isn't that a good choice for both comfort and durability? So why not grab yourself a Nolah now for less using this Nolah Mattress coupon code!
Extra nolah mattress discount June 2022
$125 Off Your Order + Free Pillows
Construction
Construction is the next factor in this Nolah vs Mint comparison. This is where Nolah takes the lead, with their robust 4-layer structure as seen in the Nolah Signature:
Layer 1: a layer of 2.5" extra-thick AirFoam™ provides superior pressure relief, keeps you cool and contours perfectly to your body
Layer 2: a 1.5" support layer that is stronger and more durable than latex, providing a healthy and responsive bounce
Layer 3: a 7" layer of the best U.S. made high-density breathable base foam that reinforce the support and contouring of the top layers
Layer 4: 1" of firm supportive Nolah AirFoam™ provides the perfect amount of support and pressure relief for stomach- and combo sleepers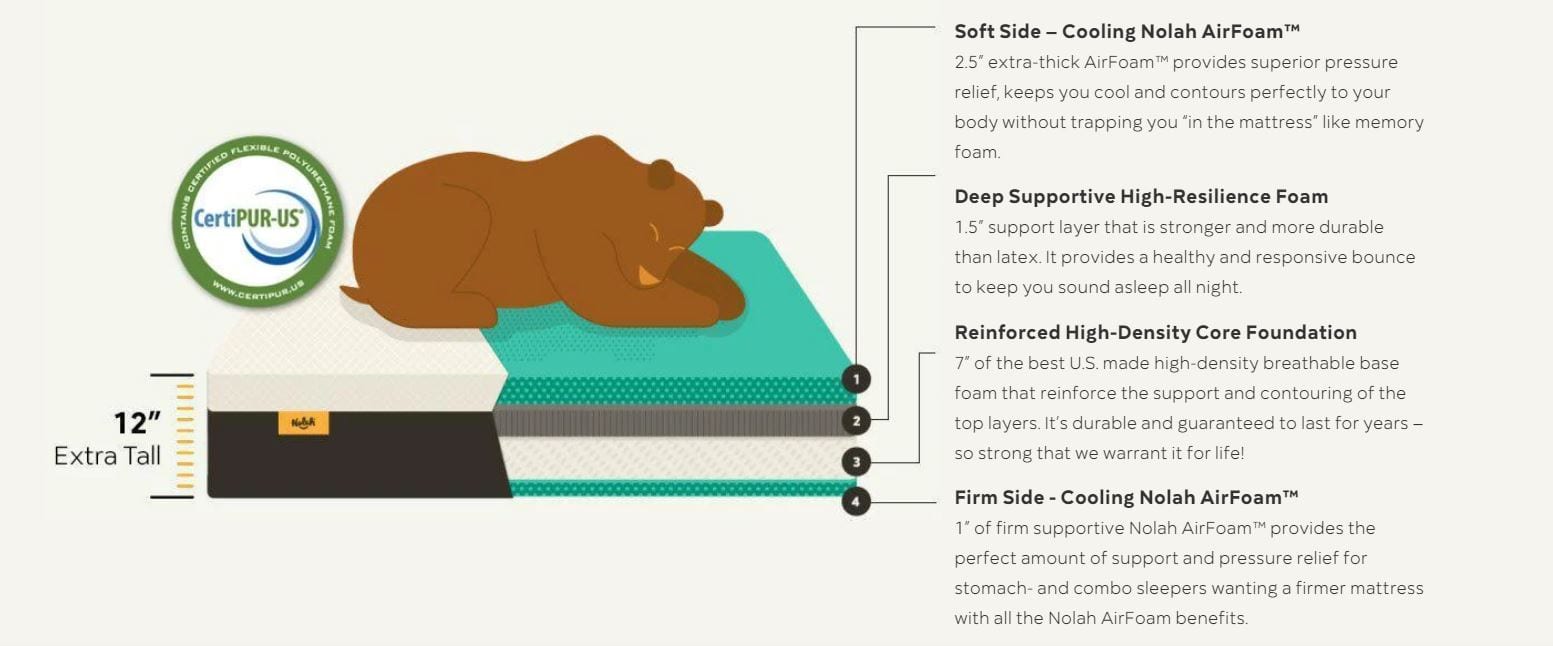 Meanwhile, the structure of Mint is less complex, with 3 layers:
Layer 1: 3″ Tuft & Needle Adaptive® foam (3.5lb density) infused with ceramic gel
Layer 2: 2″ Tuft & Needle Adaptive® foam (3.0lb density) infused with graphite
Layer 3: 6.5″ High-density polyurethane foam foundation (1.8lb density)
Pricing
With all the quality-related considerations addressed, it's time to discuss the pricing and value of Nolah vs Mint. To get a baseline, the queen sizes of both mattresses will be used. A Mint mattress costs $1095 at the queen size, while the Nolah Signature costs $1299 at the Nolah queen size. While this may seem like Mint is winning on price, don't forget that you can still have up to $300 on Nolah products using this Nolah Mattress coupon code! With it, you're essentially cutting the price of Nolah down to very close to Mint's, and you can enjoy Nolah's superior quality.
Conclusion
In conclusion, it seems that Nolah is the better option to go with in our Nolah vs Mint comparison, especially if you're all for quality. To learn more about Nolah, check out this Nolah vs Bear comparison!