Amidst this COVID lockdown, staying productive is more important than ever. A good way to achieve productivity is through good sleep on a nice mattress. So how do you find a mattress that's right for you? Well, let us help you out by comparing Nolah vs Sleep Number! If you want to save on Nolah's many products, don't forget to claim your Nolah Mattress coupon code!
Nolah vs Sleep Number – The similarities
Since they belong to two different segments of mattresses, there are very few similarities between Nolah vs Sleep Number. The two brands' mattresses are all quite soft, with average responsiveness. They both offer quite decent trials, although Nolah does beat out Sleep Number by offering 120 nights of trial instead of 100.
Nolah vs Sleep Number – The differences
With such different offers, it's time to compare Nolah vs Sleep Number in terms of their differences.
Price
Let's face it, prices are everyone's first concern, so let us see if the prices of Nolah vs Sleep Number deliver good value for their prices. As a baseline, we're comparing the queen sizes of both companies' mattresses. A Nolah Signature at the Nolah queen size costs $1599, while a Sleep Number equivalent costs only around $$2300. It seems like a pure price comparison shows us that Nolah is the winner. And don't forget you can still save up to $300 on your Nolah mattresses using this Nolah mattress coupon code! Deal!
Extra nolah mattress discount June 2023
$125 Off Your Order + Free Pillows
Material
With pricing out of the way, let's consider the quality of these mattresses, beginning with material quality. Between Nolah vs Sleep Number, the latter seems a bit lackluster in terms of investment into materials. Sleep Number does not invest heavily into materials, but rather uses a simple airbed composition for their mattresses. Not bad, but nothing too special. In fact, a downside of the airbed composition is its loud noise and low durability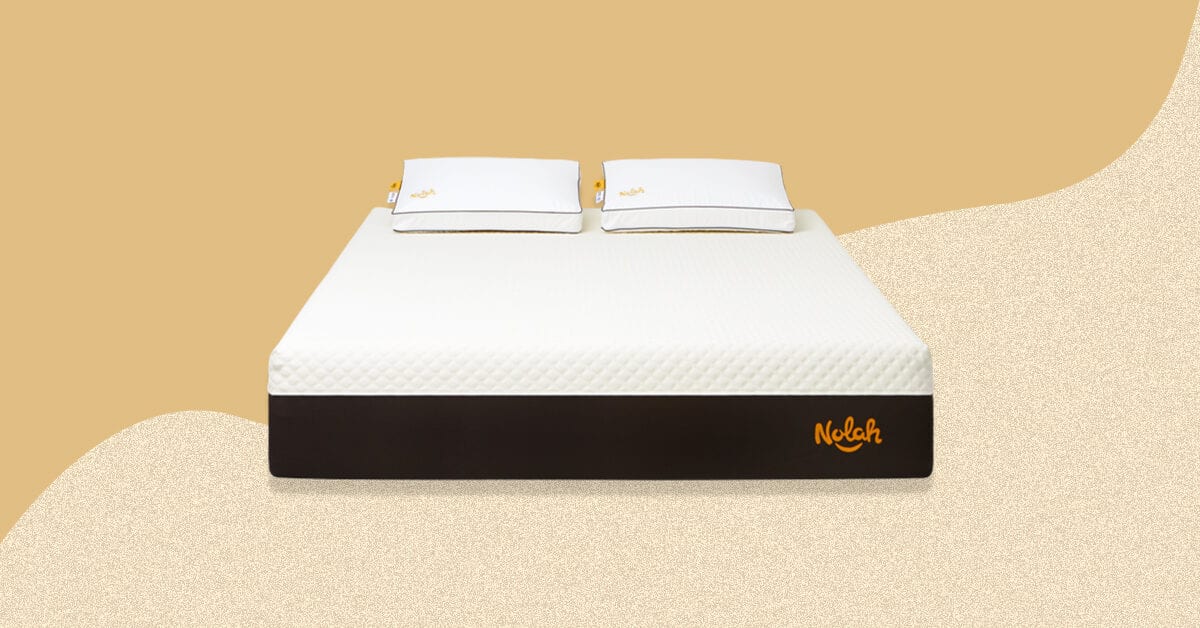 In stark contrast, Nolah invests heavily into creating AirFoam – a trade-marked material that comprises literally millions of air bubbles. The biggest benefit of this unique material is its pressure relief, with up to 4 times the pressure relief of regular memory foam. With its temperature neutralness, AirFoam also promises you a cool night's sleep. Furthermore, with it's high resilience, AirFoam can outlast many of competitors.
Construction
The next comparison point in our Nolah vs Sleep Number showdown is construction, given its equal importance to material. Since both brands put great constructions on show, this is where they tie out
To understand Nolah mattresses' structure, let's take a look at the Nolah Original review's structure:
Layer 1: 2" of AirFoam, which serves to cool you during your sleep and offer great pressure relief
Layer 2: a 1" support layer that is stronger and more durable than latex, providing a healthy bounce to keep you sound asleep all night
Layer 3: 7" of the best U.S. made high-density breathable base foam that reinforce the support and contouring of the toper layers
Meanwhile, Sleep Number also features what is seemingly an inferior structure, with only 2 layers:
Layer 1: 2″ Comfort Layer
Layer 2: 9″ Adjustable Airbeds
However, it is the second layer of Sleep Number that makes the magic, as it is an adjustable layer that changes the configuration of the mattress for a variety of functions. One of which is that it can respond to your movements and automatically adjusts firmness on each side, providing you just the right support. This puts it on the same level with Nolah.
Conclusion
In conclusion, we would say Nolah is the ultimate winner in this Nolah vs Sleep Number comparison, as it reigns superior in both price and material. As for Sleep Number, you might want to go with it if you're into the adjustable feature of the mattress. But if you're just looking for maximal sleep comfort, definitely choose Nolah! For more info, you can check out our article on the Nolah vs Amerisleep. And don't forget to grab your own Nolah Mattress coupon code to save lots!