RELX vape is best known for its innovative features and revolutionary design. What people often miss about RELX is that its flavors are extremely amazing also. In this article, let us take a look at RELX Tangy Purple – one of the amazing flavors in the Fresh series of RELX Classic. To save on Tangy Purple and other amazing RELX flavors, remember to grab this RELX coupon!
RELX Tangy Purple review – a grape-based explosion
Fruit flavors are among the most universally loved vape flavors. They are sweet, they are sour, they may even be a little savory. Most importantly, they are as diverse as the range of fruits they are based on. This means that most vapers can find something for themselves from fruit flavors.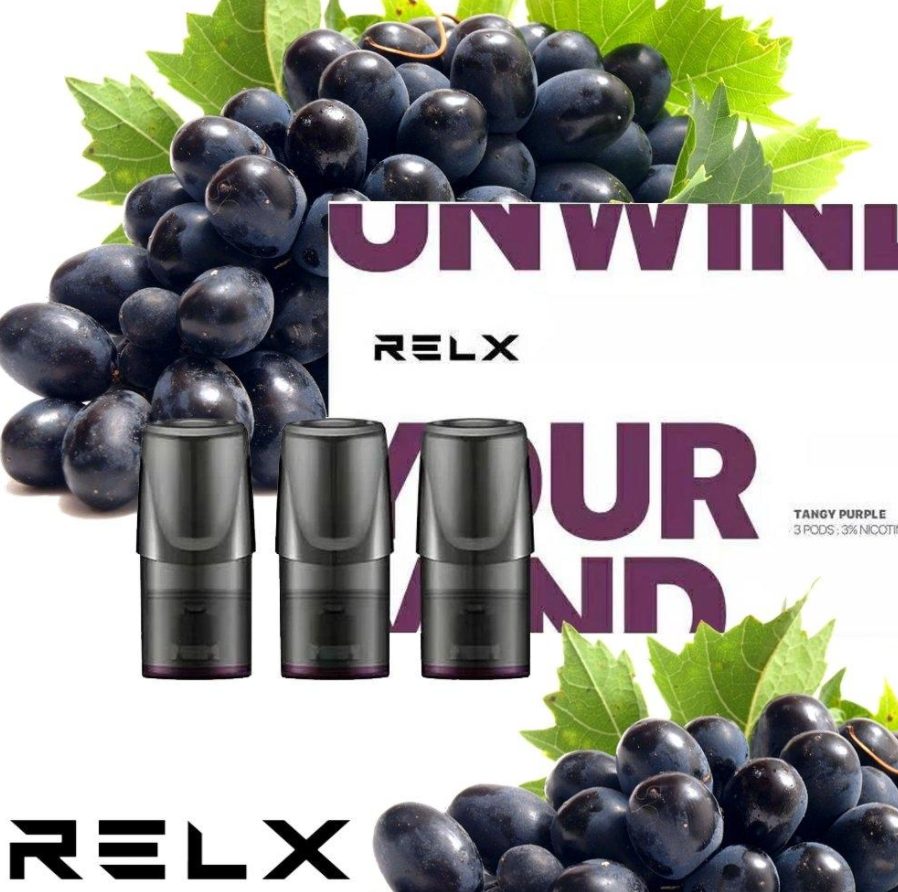 RELX Tangy Purple certainly dominates when it comes to RELX Classic fruit flavors, being one the best-selling flavors in the Fresh series. What's great about RELX Tangy Purple is its resemblance to a chewy grape candy that mesmerizes your taste buds with a sweet sensation. Upon exhale, you will be greeted by a subtle yet refreshing hint of mint that leaves a lasting coolness in your mouth.
Tangy Purple is available for the RELX Classic – the top best-selling RELX device. To get both the Tangy Purple flavor and this amazing vape kit for less, use this RELX promo code!
Extra relx discount August 2022
40% Off Storewide at Relx
Additionally, ValeVape is also a great place to find some great savings for RELX. They are an authorized retailer for the brand, and offer great deals through their ValeVape coupon!
RELX Tangy Purple review – other recommended flavors
While the RELX Tangy Purple is certainly a great flavor, there are definitely more to RELX's large catalogue of pod flavors. Here are some flavors we think you may like if you're a fan of Tangy Purple
RELX Fresh Red
Also in the line of great RELX fruity flavors is Fresh Red. This flavor has all that it takes to make it a great fruit flavor. So what is it like? Well, if you've ever had a cup of iced watermelon juice on a hot summer day, you could say you've tasted Fresh Red.
The flavor is wonderfully sweet and watermelon-ish, with a minty exhale to finish off the great sensation. Fresh Red is available for both the RELX Classic and RELX Alpha starter kits. To see how these kits weigh up against each other, check out our RELX Classic vs RELX Alpha article!
RELX Dark Sparkle
Along with fruit flavors, drink flavors are also well-liked for their interesting tastes and diversity. And if there's a flavor that can represent the best of RELX drink flavors, it's Dark Sparkle! Based on the drink that we all know and love – Coca-Cola – Dark Sparkle plays with your taste buds by replicating the ice cold sensation of downing a coke bottle.
Ever went for a chilled Coca-Cola in the middle of a scorching noon? Well, the experience of inhaling Dark Sparkle is exactly like that. Furthermore, Dark Sparkle doesn't forget to finish off with a refreshing mint after-taste, making for a truly reinvigorating experience.
To learn more about this flavor, check out our article on the RELX Dark Sparkle flavor!
Conclusion
All in all, our review of the RELX Tangy Purple flavor shows it is truly the king of fruity flavors offered by RELX pods. To get this flavor and other RELX products for cheap, don't miss out on this RELX coupon code!