Hair loss is a serious issue for most men during their middle age, as it can cause some severe loss of confidence or scalp issues. While there are many brands out there that offer hair loss solutions, most of their products do come with some nasty side effects or little success. However, Scalp Med sets itself apart in this arena by offering quality products that not only treats hair loss but also nurtures your hair. Today, let us take a look at the best Scalp Med for men products. To get them for less, try using this Scalp Med coupon!
#1 Scalp Med for men product – Patented Hair Regrowth System for Men
Fixing hair loss is a systematic process that takes quite some effort and time. As discussed in our article on what is Scalp Med, treating hair loss is difficult since it involves both stimulating hair growth and maintaining good hair health in the follicles. Most products for hair loss would stop simply at hair regrowth but lack the extra effort to keep your hair healthy. So does this mean all your effort to regrow hair will eventually go to waste?
Worry not! As with Scalp Med's Patented Hair Regrowth System for Men, you can enjoy various benefits from a range of Scalp Med products that compliment each other for the best results. The system includes the Scalp Med for men products as below!
Vitadil & NutriSOL
When it comes to Scalp Med's formula for hair regrowth, these 2 Scalp Med ingredients are the key! Read below to learn more about them!
Vitadil (specifically Vitadil-5A): the main minoxidil carrier of Scalp Med with a 5% concentration. Vitadil is an FDA-approved minoxidil component, which guarantees to boost hair growth while staying safe for the scalp
NutriSOL: the multi-patented component exclusive only to Scalp Med! While Vitadil helps with stimulating hair regrowth, NutriSOL is what mainly nourishes your newly regrown hair. This component does so by promoting the retention of oxygen and other nutrients in the hair follicles to keep them healthy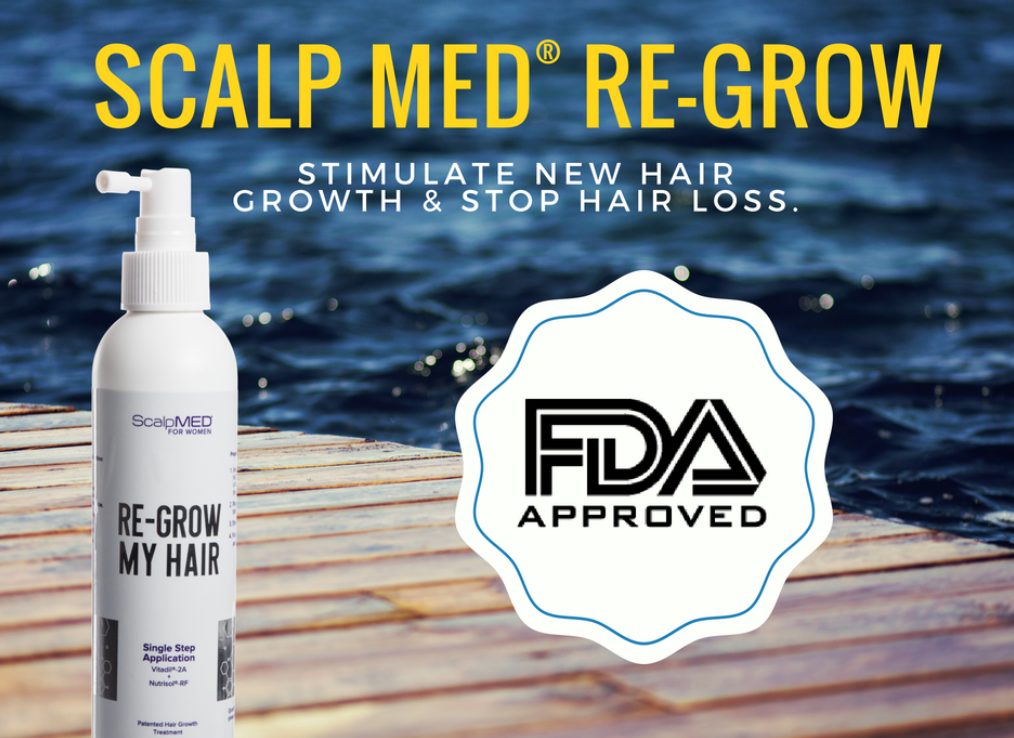 Scalp Med's Vitadil comes in two 60ml bottles, while NutriSOL comes in one 60ml bottle in the Patented Hair Regrowth System for Men.
The system also includes a Re-Grow My Hair spray, which is the convenient mix of these 2 components for easy single-step application. The spray comes in a 180ml bottle.
Sounds great, doesn't it? Grab these Scalp Med for men products now for less by using this Scalp Med discount code!
Extra Scalp med discount June 2023
10% Off Storewide at ScalpMED
Free Bonus Gifts
Along with the 3 amazing products above, Scalp Med also offers you some incredibly useful free bonus gifts to aid you in regrowing your hair. The gifts include the Detox My Scalp spray and the Grow My Hair supplements that helps you maintain your hair regrowth results. Altogether, these gifts cost over $70, and you're getting them for free!
#2 Scalp Med for men product – Amp Me Up hair thickening spray
If your problem is not so much hair loss but rather hair thinning, Scalp Med also has you covered with the Amp Me Up Scalp Med for men product!
Amp Me Up contains vital nutrients for your hair and promotes hair thickening quickly. Simply spray it onto your hair once in the morning and then style your hair and go. You don't even need to wash it off! A full list of all the benefits this product can offer you is right here as it said on the Scalp Med website!
Provitamin B5 and Panthenol promote thicker hair shafts
Instantly adds volume for a fuller-looking head of hair with NO sticky mess
Comb or style your hair normally
Completely invisible and undetectable
In fact, this product is so amazing, it even made it into our list of best-selling Scalp Med products in 2020.
#3 Scalp Med for men product – Grow My Hair supplements
While this product went as a free gift in the Patented Hair Regrowth System for Men, you can also buy it separately to fulfill your hair care needs. Once you have fully regrown your hair, you might not need to continue using a full system to keep your hair strong, but rather some side supplements like Grow My Hair.
Based on the Phyto-Complex ingredient, Grow My Hair provides you with numerous nutrients and herbal extracts to deeply nourish your hair. These include 100 mg of pure Sitosterol, Zinc, Biotin, Niacin, Selenium, Saw Palmetto Extract, Horsetail Extract, Green Tea, Linolenic Acid, Turmeric Extract, Bamboo extract. Pygeum Africanum and more!
Using Grow My Hair guarantees strong hair with little to no side effects!
Conclusion
So that has been it for our review of the top 3 Scalp Med for men products! Let us know what you think about these products and whether you will purchase them! If you do, take advantage of Scalp Med's 15-year anniversary sale by using this Scalp Med discount code!