There's no hiding that hair loss is a serious issue that plagues most men and women in their 40s and above. Among various hair loss products, Scalp Med stands out as a wonderful solution for hair loss. But, like anything, treating hair loss is often a long-term process. So how do you track Scalp Med results? Let's take a look at that in this article! To save on your Scalp Med products, don't hesitate to use this Scalp Med coupon!
#1 Scalp Med results- Track by taking photos
This might sound funny at first, but taking photos is a great way to keep up with your Scalp Med results. This is because a normal pair of human eyes can rarely tell the difference between how your hair looks before and after around 1 or 2 months of Scalp Med usage. Taking photos along the way not only lets you compare your Scalp Med before and after photos but also makes your hair loss treating journey fun and exciting.
A progress photo should be taken at least once a month, and you can set a monthly reminder on your phone's calendar app to avoid forgetting to do so. For those whose hair loss takes place at the top or back of the head, taking progress photos might be difficult. In this case, try asking someone else to take it for you, or simply use a selfie stick to reach behind yourself and take a progress photo. Lastly, remember that progress photos are just a way to keep up with your treatment, so don't freak out if you've missed your monthly photos by 1 or 2 days.
Sounds good, doesn't it? Now, how about saving on some quality Scalp Med products to start your hair loss treatment right away with this Scalp Med discount code!
Extra Scalp med discount June 2023
10% Off Storewide at ScalpMED
#2 Scalp Med results – Using Scalp Med's result tracker
If you're finding it difficult to keep up with your progress photos, try using a tool to help you keep up with them. Scalp Med's online Track Your Results site is perfect for those who keep forgetting to update on their hair loss treatment progress.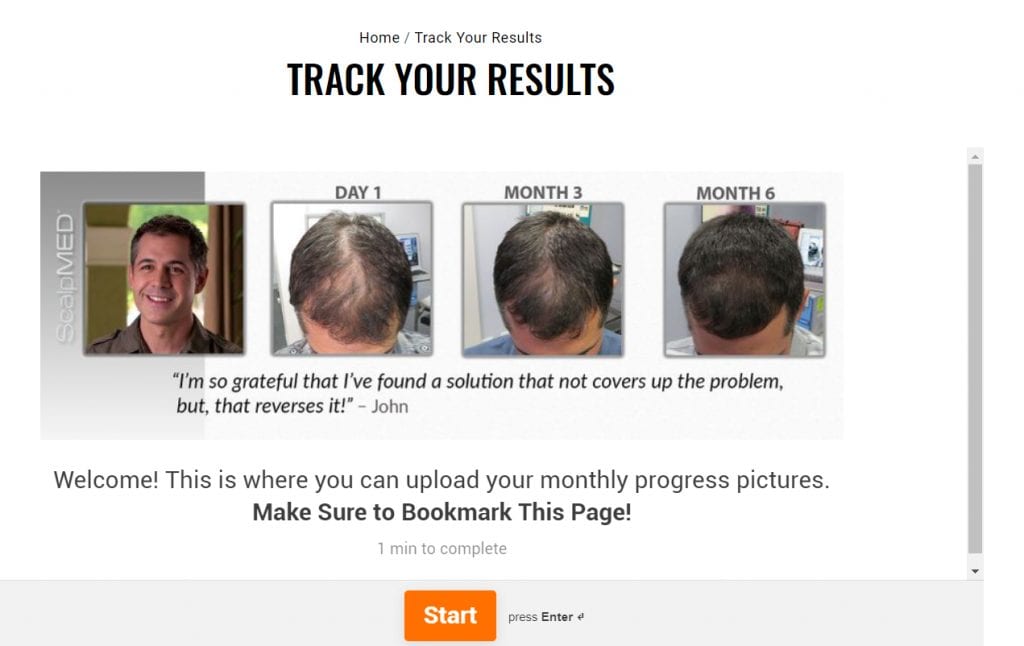 Track Your Results is a part of Scalp Med's website and acts as a platform for you to keep track of your Scalp Med results. Track Your Results is easy to use, and in fact, you can probably go over the entire use process in the 5 steps below:
Step 1: Go to the Track Your Results site and input your full name
Step 2: Scalp Med will then ask for your email, which will be used to keep you up to date with your progress. Input your email here.
Step 3: You will then be asked which month of progress you are in. Choose a month from the drop-down options or input your own.
Step 4: Following Scalp Med's instructions, take a photo to show your current results and upload them to the site.
Step 5: Repeat step 4 for 6-12 months, depending on your hair loss treatment length
So that's it for how to use Track Your Results to follow your Scalp Med results. Pretty easy, right?
#3 Scalp Med results – Use a third-party app
Of course, if you find the 2 tips above ineffective, you can also use a third-party app to track your Scalp Med results. There are many apps for this purpose out there, such as the Track My Hair app. This app lets you create a treatment calendar with the most necessary info, such as treatment types, side effects, hair loss level. There is also a journey and a photo bank where you can document your progress and store progress photos. However, the downside is that this app is currently only in the Apple App Store, meaning that you can't really use it if you have an Android device. 
Conclusion
Overall, that was our top 3 tips for tracking your Scalp Med results. There are many ways to track your hair loss progress, some require nothing other than your camera, while some may involve some apps. In the end, you decide which works best for you. And regardless of that, you can always save on Scalp Med products from today using this Scalp Med coupon!