Have you known that sitting for an extended period of time can cause many health problems such as back pain and fatigue. Thus, many people choose to work at a standing desk for better productivity and better health. Don't rush to get rid of your sitting desk, you can turn it into a standing desk in a few minutes by using a standing desk converter. Flexispot and Uplift are two popular brands on the standing desk market. Let's take a look at a comparison between Flexispot vs Uplift to have a better understanding to opt for a suitable one for your home office.
We compare Uplift E3 Standing desk converter and Flexispot AlcoveRiser Standing Desk Converters M7R to dig deeper. See below!
Flexispot vs Uplift: Weight capacity
The second factor to take into account when buying a standing desk converter is weight capacity. Uplift E3 standing desk converter is ideal for laptops and features a 11 lb lifting capacity. In contrast, Flexispot with high-quality construction can offer higher weight capacity. A heavy duty steel frame combined with top-quality gas springs and an environmentally-friendly MDF work surface enable smooth, even adjustment and a total weight capacity of 37.4 lbs.
To conclude, Flexispot is the winner with regards to weight capacity.
Surprise! You can buy Flexispot products at 20% off the price by using Flexispot coupon. Click here!
Extra Flexispot discount March 2023
Extra $15 Off $150+ Sitewide
Flexispot vs Uplift: Height adjustment range
Height adjustment range is one of the important factors that customers consider before choosing a standing desk converter. Uplift Uplift E3 Standing desk converter offers ultra-portable sit-stand solution for kitchen islands, tables, craft corners, and more. You can easily adjust the height range, with gas spring operation, you just need to slide tabs to unlock and lift. Moreover, the unit can be set at your favorite standing height with the turn of a screw so you can get back to work without fidgeting with manual adjustments. Uplift standing desk converter converts to a sit-stand station in seconds and keeps you comfortable for longer. Its height range is 15.8".
Click Which is better to choose between Vivo vs Flexispot to get a reference of comparison between two brands.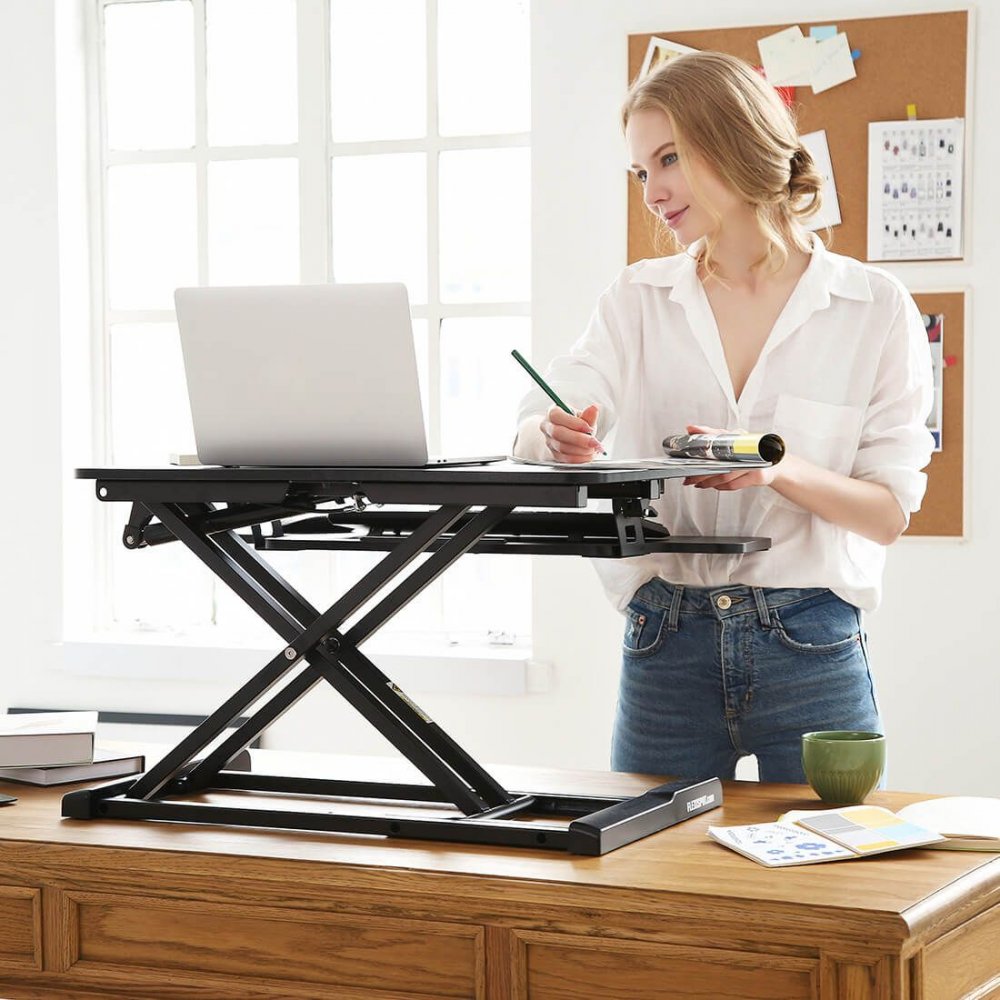 By contrast, Flexispot offers a height adjustment range from 4.7" to 19.7", you can easily adjust the standing desk to your favorite position and work effectively. In addition, Flexispot also comes with safe, straight up-down operation. High-powered gas springs offer smooth and stable straight up-down operation, with a specially engineered bracing system that increases safety by preventing rapid falls, even while under full load.
It can be said that Uplift is the winner in terms of height adjustment range.
Check our blog of Which is better to choose between Flexispot vs IKEA for more reference of comparison between different brands.
Flexispot vs Uplift: Price
Price is the most important point that many people care for when choosing a standing desk converter. Uplift E3 costs $129 for an ultra-portable sit-stand solution. At the same time, Flexispot M7R has the price of $129.99. There is no significant difference here but Flexispot may be the winner with more convenience and functions coming with this affordable price. It is convenient to use, you can use this portable desk riser anywhere so you can set up a comfortable work spot.
Don't miss the chance to save up to 15% your purchases by using Flexispot promo code.
Flexispot vs Uplift: Design
It is a mistake if you can count the design to compare between Flexispot vs Uplift. On the one hand, Uplift with grab and go design is easy to store and saves space. It offers slim, discreet design at less than 1″ when closed. You can even use it in the kitchen. It makes mixing easier than ever with a sit-stand solution that fits right on the kitchen island. Furthermore, Uplift E3 is fully assembled and ready to use.
On the other hand, Flexispot M7R brings you a versatile work surface. A spacious 31.5" wide work surface fits two 24″ monitors, and a 28.4" wide quick-release keyboard tray accommodates a full sized keyboard and mouse and can be removed when not needed. Additionally, it can protect your desk.
Both the base frame and keyboard tray are outfitted with protective rubber pads for safety, comfort, and protection. Next, an integrated monitor mounting grommet lets you easily install a monitor mount, freeing up space on your work surface for a laptop, documents, stationery, and any other accessories. With Flexispot M7R standing desk converter, you can protect yourself from chronic neck, shoulder, wrist, and back pain. At the same time, it boosts energy, productivity, and creativity throughout the day. Raise your health and happiness with FlexiSpot sit-stand converters.
Take a look at Top most popular Flexispot standing desk converter for more reference!
Conclusion
We just showed you a comparison between Flexispot vs Uplift. We hope that it help you choose an ideal standing desk converter for your home office. Don't forget to use Flexispot discount code to save up to 20% your orders at Flexispot.com.