After several months research Vivo vs Flexispot, we find out that Flexispot is better than Vivo due to its impressive features and attractive warranty policies. We focus on 5 main characteristics namely Height Adjustment, Weight Capacity, Design, Cost and Warranty. To know more details, let's read on and you will be amazed.
We choose the best seller of each brand, Electric Height Adjustable 63" Desk of Vivo and Electric Height Adjustable Standing Desk EC1-48″ W of Flexispot to compare. Let's take a look right now!
Vivo vs Flexispot: Height Adjustment
Electric Standing Desk with Table Top Package (DESK-KIT-2E1B) from VIVO allows you to find a needed healthy balance between sitting and standing throughout the long workday. Importantly, the height adjustment is made easy with the smooth, powerful motor. It has height adjustment ranging from 29.5" to 48", which fits most people's height preferences.
By contrast, Electric Height Adjustable Standing Desk EC1-48″ W of Flexispot facilitates height adjustment ranging from 27.9″ to 47.6″ (without desktop). With a larger range of height adjustment compared to Vivo, it can serve more sets of people with different heights. The standard electric height-adjustable desk frame ensures smooth and comfortable transitions with just light touch.
Winner: Flexispot
Buy this excellent Flexispot height-adjustable desk and save up to $50 by using Flexispot coupon code.
Vivo vs Flexispot: Weight capacity
With a frame constructed of solid steel, Vivo desk supports up to 176 lbs and is built to last, which means you can place up to 2 monitors, a desktop, and a mouse without fear of overboard it. In contrast, Flexispot EC1 offers a weight capacity of 154 lbs, a little bit fewer than Vivo but still enough weight capacity to hold your desktop and monitors.
Winner: Vivo
See more:
Vivo vs Flexispot: Design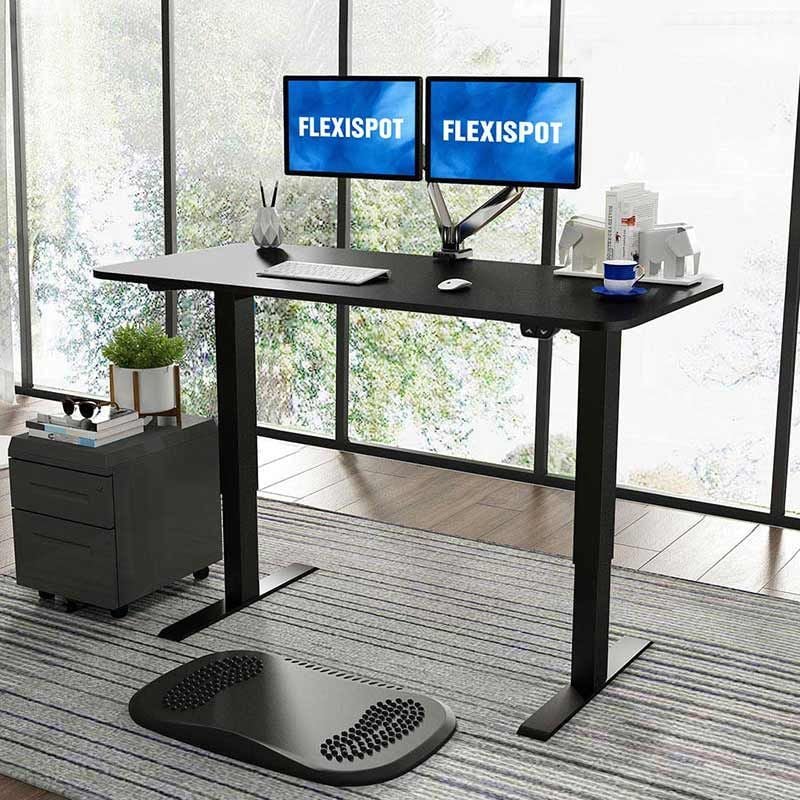 The Vivo desk integrated cable management system ensures that cords and cables are organized and hidden from view for a neat workspace. The desk platform comes packaged in 3 sections, and all essential hardware is provided to get your desk frame put together and mounted to your desktop in a short time.
On the other hand, Flexispot height-adjustable desk EC1 features the thoughtfully engineered and thoroughly tested motors to ensure industry-leading stability and whisper-quiet noise levels. Moreover, with standard two-button up and down keypad, you can set your favorite heights of your new sit-stand-move lifestyle. Additionally, designed for maximum structural integrity, the Flexispot desk frame features double steel tubing that ensures stability even at its highest height. Thicker and more durable powder coating seamless surface resists scratches, water, and stains to offer robust and stable construction. 
Winner: Flexispot.
Take the chance to enjoy the convenience and comfort of the Flexispot height-adjustable desk by using Flexispot coupon code.
Vivo vs Flexispot: Cost
Vivo comes at quite an affordable price at below $200 while Flexispot desk has a little bit more expensive price at $270. However, we still recommend the Flexispot desk because of its innovative features and a wide range of height adjustment. Remember that investing in a desk is for the long term, so don't make you regret choosing products of inferior quality. Instead, purchasing cost-effective and high-quality products is a wise choice for future benefits.
Fortunately, you can buy this wonderful Flexispot standing desk at just roughly $240 by using Flexispot coupon code.
Vivo vs Flexispot: Warranty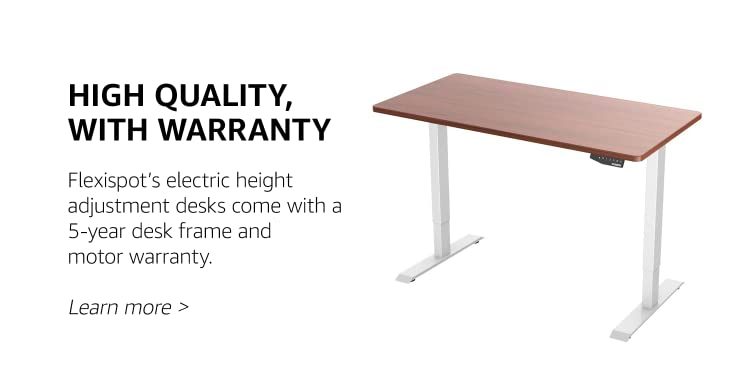 Vivo product comes with a limited 3-year Manufacturer warranty. Moreover, they also have friendly tech support to help with any questions or concerns. In contrast, Flexispot offers 5 years for the frame, motor and other mechanisms. Additionally, they have 2-year warranty for the controller and switch, electronics. 
Winner: Flexispot
Conclusion
We just list out key characteristics of Vivo vs Flexispot products. Undoubtedly, Flexispot with high-quality materials and excellent design as well as a good policy of warranty prevails in this contest. Don't hesitate to buy the right Flexispot standing desk for you and save up to $50 by using Flexispot coupon code.