When looking over the options for theme parks at Xcaret, two obviously stand out – Xcaret Park and Xplor Park. With unique attributes to their own, it might be hard to know which of these parks to choose. Therefore, let us guide you through our comprehensive comparison between Xcaret vs Xplor. And while you're at it, don't forget to use our Xcaret coupon code to book your trip for less!
Xcaret vs Xplor: An Introduction
To begin, both Xcaret and Xplor are wonderful theme parks and are one of our top reasons why Xcaret is worth it. However, for the sake of comparison, let us look individually at each park first.
Xcaret Park
Xcaret Park is the oldest theme park in the Xcaret area, founded in 1990. The park takes advantage of the area's unique terrain to offer many distinct activities, settings, and sceneries to visitors. Xcaret's name means 'small inlet' and the area used to serve as a Mayan trading port thanks to its sea inlet that allows boats to travel deep into the land.
Xcaret's host of activities includes adventurous rides such as underground river swimming and rafting and zip-lining and cultural-related items such as archeological tours and chapel and mansion visits. The park prides itself on being a carrier of the most distinct Mexican cultures.
Xplor Park
Xplor represents the more adventurous side of theme parks in the Xcaret area. The motto of the park is 'Freedom begins here'. And yes, freedom quite actually begins there, as you swing around endlessly on the park's zip lines or dive into its underground rivers.
A comprehensive list of activities include jungle zip-lining, underground rafting and swimming, river hammocking, underground expeditioning, and more! To fill you up after a full active day, Xplor also includes 2 smoothie bars and a buffet restaurant inside it.
So there you have it! That's the round-up of both parks, Xcaret and Xplor. If you're already itching to go there, just pick up this Xcaret coupon to save lots!
Extra discount June 2023
Now, to get deeper into our Xcaret vs Xplor comparison, let us look at some specific show-downs between the 2 parks.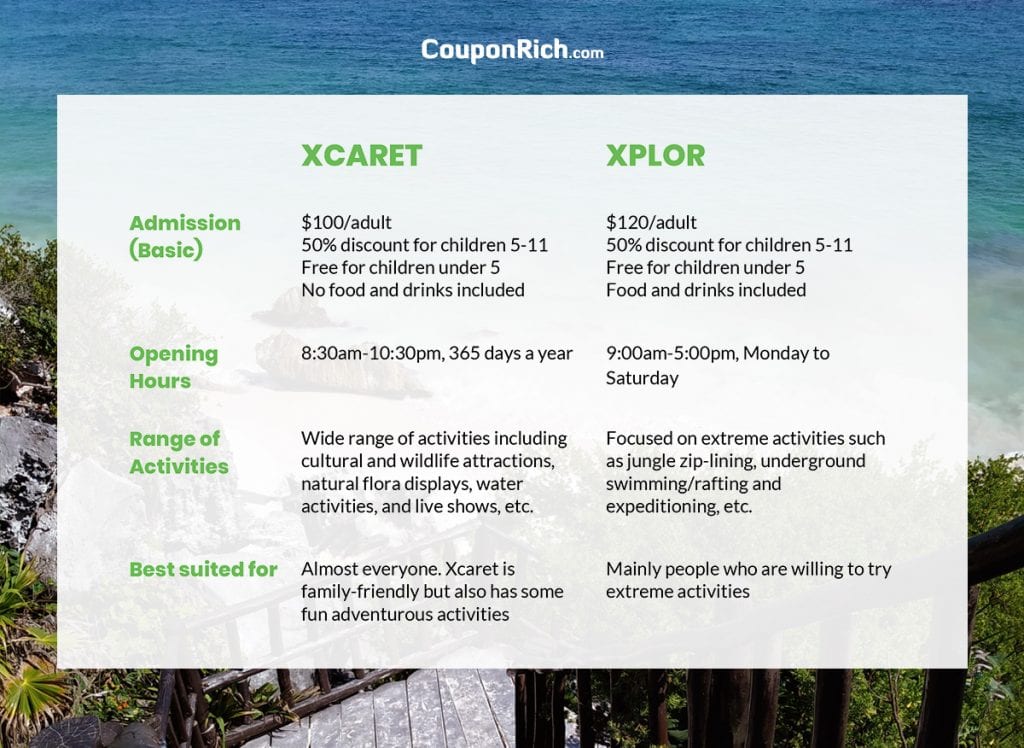 Xcaret vs Xplor: Prices
Let's get back to basics here. A good way to compare Xcaret vs Xplor is by their figures. Currently, each park offers several packages and options, but let us compare their most basic fees.
For Xplor, the basic entry fee for adults is around $120 at the time of writing. This price is cut by half for children from 5-11. While seeming quite a lot at first, this price includes transportation within the park and full access to food and drinks.
As for Xcaret, the basic entry fee for adults is around $100 at the time of writing, and is also reduced by half for children aged 5-11. While initially looking cheaper than Xplor, the difference in price is because this entry fee does not include meals. To add meals into your package, you would need to add around $25 to your original fee. Additionally, you can also opt to buy from restaurants inside Xcaret parks, whose prices average at round $10 per meal.
Altogether, Xplor works out to be the cheaper park in our Xcaret vs Xplor comparison. Of course, prices aren't everything, so let's move on!
Xcaret vs Xplor: Opening Hours
While both parks are located in the Xcaret area, there's a slight difference in the opening hours as follows:
Xcaret: open from 8:30am-10:30pm, 365 days a year
Xplor: open from 9:00am-5:00pm, Monday to Saturday
While not exactly a deal-breaker, the fact that Xplor is not open on Sunday may make it harder to include it in your weekend getaway plan. The difference in accessibility between Xcaret vs Xplor is small, but it's certainly there.
Xcaret vs Xplor: Range of Activities
When considering a theme park, the range and quality of activities are certainly important factors. Fortunately, both Xcaret and Xplor are guaranteed to offer you some quality fun. However, there are some big differences in the range of activities between Xcaret vs Xplor.
Xcaret's activities
We already mentioned how diverse yet unique the activities at Xcaret park are. The things you can do here range from blood-pumping rides to enriching cultural tours. A more detailed list includes:
Swimming or sailing through underground rivers
Visiting a Mexican-style wine cellar (Vino de Mexico Xcaret)
Glimpsing the golden age of Yucatan through the Hacienda Henequenera mansion
Marvelling at the Chapel of Our Lady of Guadalupe and St Francis of Assisi Chapel
Discovering the lifestyles of Mayan people in the Mayan Village
Studying archeological sites to see the beginnings of Mayan culture
Enjoying the 80-meter-high view of the Scenic Tower
Learning Mexican culture by visiting a genuine cemetery (Bridge to Paradise)
Letting your kids splash in the Children's World section of the park with fun slides, suspension bridges, and more
As you can see, the list is quite long already, and there are other sections of the park being developed to bring you even more things to do there. In fact, the park is so big, you are sure to get lost without using an Xcaret map!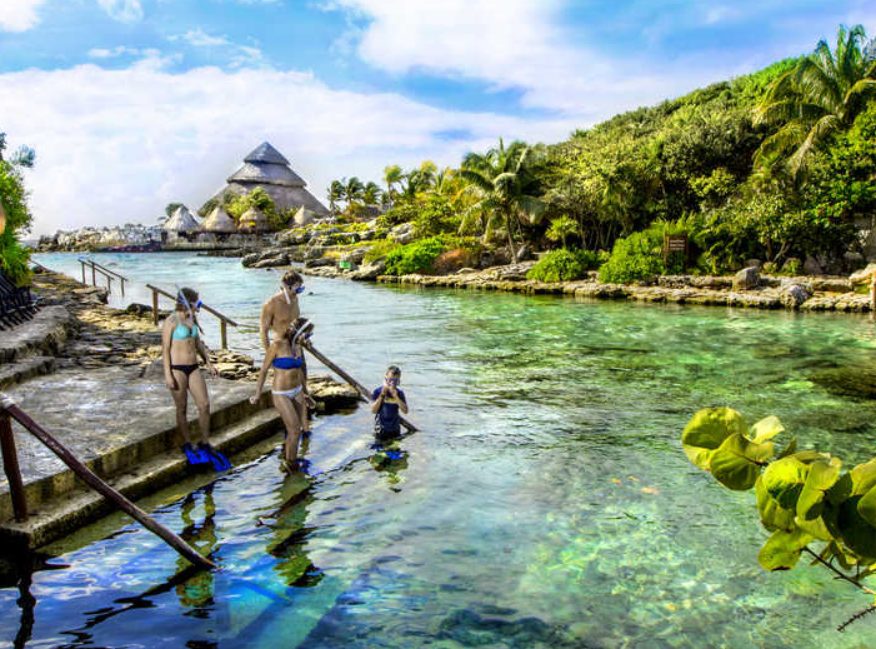 Xplor's activities
Different from Xcaret's all-in-one approach, Xplor is laser-focused on only the most thrilling experiences, including:
Zip-lining over Riviera Maya in two seven-zip-line circuits. This is quite the highlight of Xplor, as not only can you experience the thrill of sliding above the jungle, but also get amazing view of the Caribbean waters just nearby
Riding amphibious vehicles around the jungle
Swimming or paddling through the underground rivers and witness prehistoric landscapes like no other
Underground expeditioning through the crystal caverns of magnificent sceneries
Hammock-splashing: Xplor's original take on the traditional zip line, which boards you on a sliding hammock along a zip line
Needless to say, if you're looking to pump some adrenaline, Xplor is where it's at! To accompany your exciting day of adventures, the park also installs several smoothie stations and a fully-fledged buffet restaurant to fill those empty stomachs after a long day!
All in all, the difference between Xcaret vs Xplor is quite large concerning their activities. Whichever park you prefer, remember to grab these Xcaret discount tickets to save tons!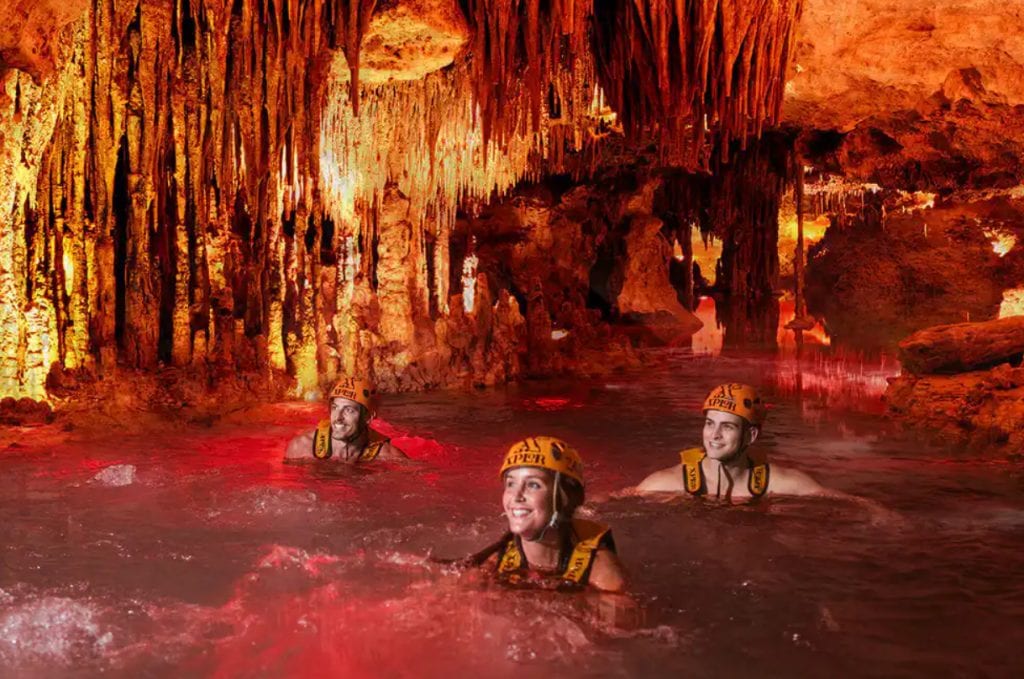 Xcaret vs Xplor: Who are you going with?
The final point to consider in our Xcaret vs Xplor comparison is, of course, your own crew of people. As the saying goes, it all comes down to personal preferences. Of course, in this case, it is the preferences of your group!
Most people can enjoy an Xcaret trip. The hardcore adventurer type can freely dash in the parks' underground rivers. The more tame tourists can find most visiting areas there enjoyable. And for kids, well, the Children's World section is their paradise on earth.
Xplor, on the other hands, is aimed very specifically at tourists who enjoy a great adventure with thrilling rides that may leave memories for a lifetime. If your group seems to be the type, do visit the park! It's great fun.
Conclusion
Overall, both Xcaret and Xplor have its pros and cons, and which to choose still depends on your personal choice. We hope this Xcaret vs Xplor comparison has been useful in informing you of the basics for your decision. And regardless which park you choose, do pick up this Xcaret coupon code to save a bunch!