The Xcaret theme park is a gem of the Yucátan peninsula. Enjoying a great heritage, nature, and landscape, the park offers a range of activities for almost every visitor. While it is certain that Xcaret is worth your money, there are several ways to save on your visits. Today, let us guide you through some saving tips when visiting Xcaret, including this wonderful Xcaret coupon!
Why Xcaret?
To sum up all the great things about Xcaret is a tall order, but you can see our top 5 reasons why Xcaret is worth it article to learn more. The park is basically a combination of a cultural park, an ecological park, and an exciting theme park all packed into one.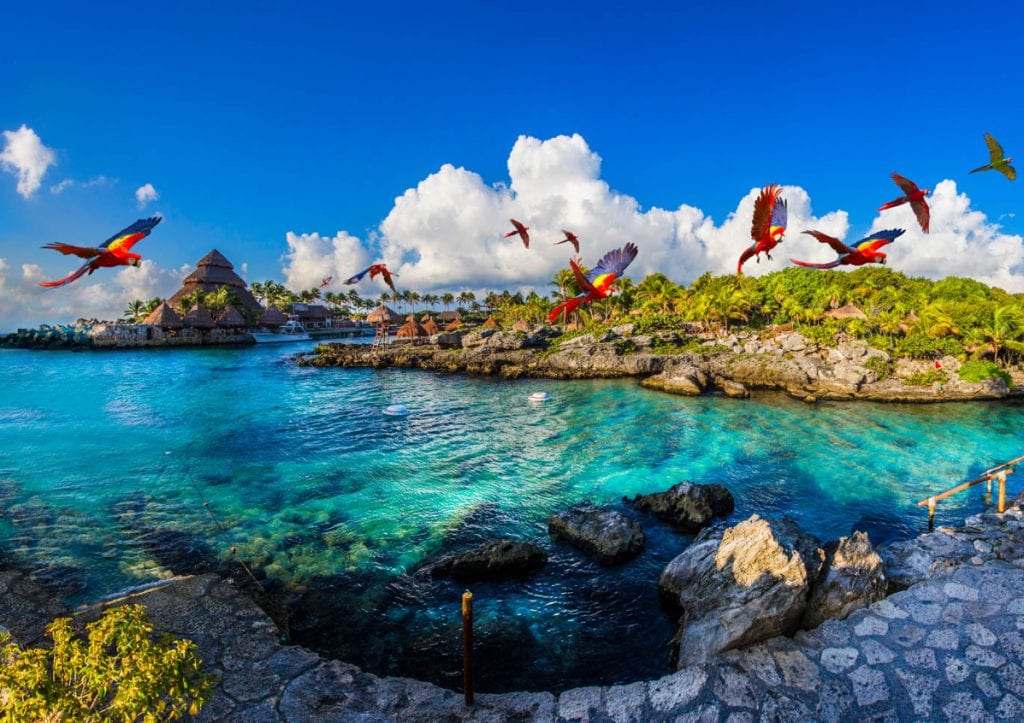 Where's the space for all of that, you ask? Well, worry not, as Xcaret is the biggest park in the region, with an area equivalent to over 40 football fields. Inside the park's spacious land mass lies dozens of both exciting and insightful activities that provide both a deep look at Mexican history and endless hours of entertainment with your family. Sweet!
#1 Xcaret saving tip – Using an Xcaret coupon
Coupons are always the easiest way to save. They are easy, straightforward, and come with little restrictions. Currently, we have some of the best Xcaret coupon codes for you, which allow you to save not only on your Xcaret trips but also Xel Ha and Xplor bookings.
A great coupon code we found offers you $5 off any Xcaret orders, making it possible to ease the cost of standard admission, as well as any additional food/drinks or transportation packages. If you book using a Mastercard, you are also eligible for a staggering 25% reduction on your bookings with a coupon we found just for you!
Feeling pumped already, don't forget to check out all of our Xcaret coupon to save lots on your coming trips to this magnificent park!
Extra discount June 2023
#2 Xcaret saving tip – Booking in advance
Being an early bird has its advantages. While coupon codes are still the most surefire and effective way to save, booking in advance does help reduce the admission cost to a certain percentage. Specifically, we have listed the promotions you can get below:
Get 10% off by purchasing your Admission or Tour to Xcaret 7 to 20 days in advance
Get 15% off by purchasing your Admission or Tour to Xcaret at least 21 days in advance
As you can see, while not as effective as an Xcaret coupon, booking in advance can get you up to 15% off on your trip to Xcaret. However, be mindful that this promotion does not apply when you purchase packages, so that's a drawback.
#3 Xcaret saving tip – Xcaret package deals
Another way to save without using an Xcaret coupon is to simply buy packages of 2 or 3 parks together. This is only suitable for those who do plan to have a long visit and would love to explore several parks. There are several Xcaret package deals as listed on the official Xcaret website, which grants you access to Xcaret along with 1 or 2 other parks such as Xel Ha or Xplor. To decide on which other park you would like to visit, don't hesitate to check out our Xel Ha vs Xcaret vs Xplor comparison.
Overall, with the available Xcaret package deals, you can save 20% on the total cost of a 2-park package and 25% of a 3-park package. Quite attractive, huh? The main drawback here is if you're not planning to visit for so long or simply don't find the other parks interesting, you cannot benefit from these packages.
Conclusion
Overall, using an Xcaret coupon still remains the most efficient and effortless way to save. Other options to save such as early booking or packages all have certain drawbacks, but can still save you some costs. Either way, if you're ready to book an Xcaret trip, remember to grab this Xcaret coupon code!